Later today in the Big Brother 18 house the remaining seven HGs will gather in the living room for this week's Power of Veto Ceremony for a possible change in the nominations, but I wouldn't hold my breath for that.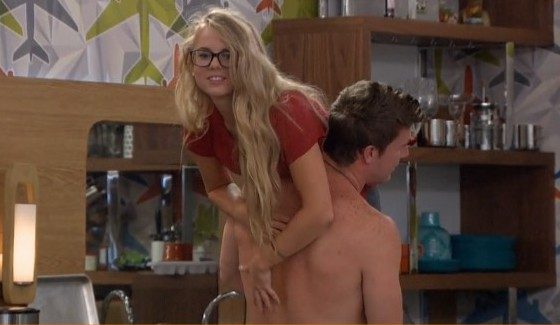 After listening in on the Veto holder's conversations since Saturday the plan looks set and so is the target for this week's Big Brother eviction. Read on for the latest details.
Nicole won the Veto during Saturday's Stay/Fold competition and that gives her complete control over the nominations as both HoH and PoV holder. She's already got her target, Michelle, on the Block and now it's all about making sure she's the one to go this week.
While Paul might be the one of the Block as a pawn this week there's someone even more nervous than he is. No, it's not Michelle, who has been assured by James that she's the pawn in the situation, it's Nicole who seems to be the most worried. She really wants Michelle out after having listened for weeks as Michelle has made it clear she wants that "snake" out of the game.
For Nicole's plan not to go as she hopes it'd take Victor flipping on their new F4 deal and voting out Paul. She's worried that might actually happen but it won't. Something really crazy would have to happen in the next few days for Victor to decide to flip on his closest partner in the game to send him out instead of Michelle.
Paul had pitched to Nicole that she could use the Veto on him then renom Natalie to make sure they had three votes against Michelle (Paul, Victor, and Corey). That opened new potential issues of its own. Nicole would have to show her hand early and reveal that she was willing to put James and Natalie's duo in danger. There would also be the chance of the three votes pressuring her to go along with getting out Natalie, something Corey had voiced interest in doing. Really there are more pitfalls than advantages in going the renom route today so it shouldn't be expected.
By the end of the Big Brother 18 ceremony we should expect for Michelle and Paul to be the final noms of the week after Nicole declines to use the Power of Veto. The noms will hold as they are and the target will remain on Michelle.
We'll be watching for the Veto Ceremony later this afternoon and will have the spoiler results then. What do you think of Nicole's plan? If she wants Michelle out then is there a better scenario she could have hoped for here?
Get the results when they're announced. Grab our Big Brother App and we'll send you an alert when the spoilers are in. Join us on Facebook, Twitter, and by Email Updates to get more results all season.