A juror returned, a new HOH was crowned, America made a weird choice with the Care Package this week and a new target surfaced. That was quite the episode of Big Brother 18.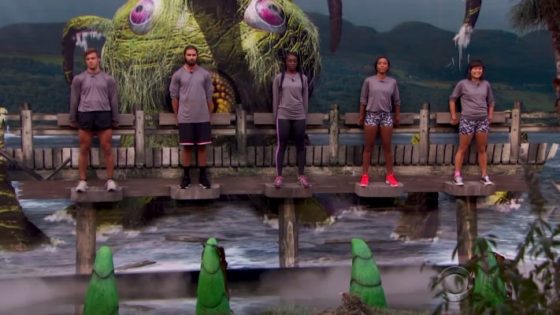 The episode picks up during the endurance competition that will not only name the next Head of Household but also a returning jury. Paul lets us know that he needs to win the competition because he blew up his game while trying to save Victor.
So we get a flashback to just before the live show as Paul is telling James that he knows the house has been coming for him and Michelle pipes in and Paul knocks Michelle out of the conversation with the C-word. And Paul pushes so much that he gets James to admit in front of Corey that Natalie wanted Corey out.
So maybe Paul didn't exactly blow up his game. His game was already toast with that side of the house and now he's got Nicole and Corey poised to work with him over James and Natalie.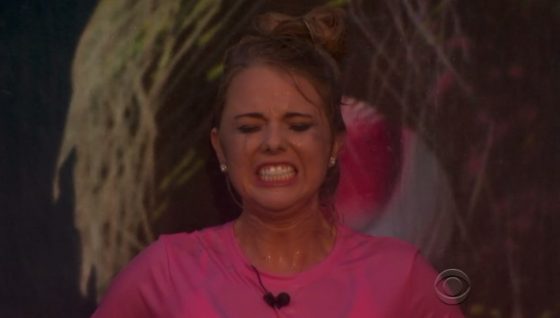 Back at the endurance competition we've got everyone still holding on Da'Vonne is struggling and she knows she can't make it with Victor on the wall. Zakiyah knows she can't stick it out either so she and Da'Vonne decide to throw in the towel and jump together. After about 17 minutes.
Corey is the next person out at the 25-minute mark. He was holding up too much weight and his height wasn't helping any. A little later, Bridgette drops, leaving Paulie and Victor to fight out for the returning spot. And one isn't willing to budge until the other is gone.
And Paulie is the one who budges. Paulie falls and Victor re-enters the game for a record-breaking two times after being evicted. Victor is too worn out to make it through the entire competition so he drops shortly after. But he's back in the game regardless.
That leaves the three smallest people — Paul, Nicole and James. That means this could be quite the long battle. Just kidding, long endurance competitions don't exists any more in this game. Paul holds out as long as he can but drops, leaving the final two in the game.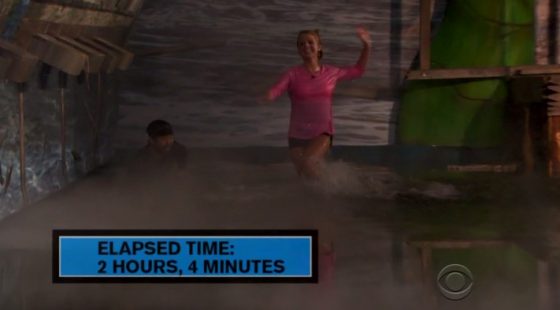 Nicole and James start talking deals. James wants his fourth wall win but Nicole wants a letter from home. They're both making safety deals. Nicole plays up wanting the letter from home enough to connive James to give her the competition. He drops and Nicole is the new Head of Household. Michelle and Natalie are definitely not happy with James dropping. But Paul is happy that he and Victor actually have some wiggle room with Nicole as HOH.
Corey and Nicole discuss their options and Nicole is pretty confused as to what to do. She's sketched out by Natalie and James but is pretty sure she wants Michelle gone this week. And Paul gets to work on securing his and Victor's spots in Nicole's trust totem pole. And it worked pretty well. Corey is definitely anti-James at this point, but Nicole says her morals are pulling her back to James.
In the end, Nicole and Corey decide to ride the middle by targeting Michelle this week. They can keep their word with James and Natalie and ride out their final four deal with Victor and Paul.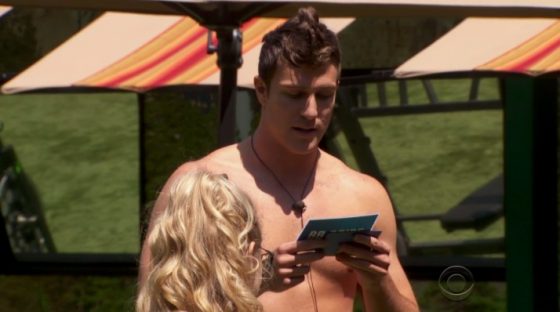 It's time for America's Care Package. And some how Corey won. He got a jockstrap, some sunglasses, candy canes and the BB Bribe. He has $5,000 to make any HG do what he wants.
The care package not going to Paul or Victor sort of threw Nicole for a loop but Michelle is the target but she needs someone else to go up so that their secret alliance isn't exposed. Paul tells them he'll go up with Michelle. He knows that it'll help sell how trustworthy he can be. And it seemingly works. Nicole and Corey agree to ride the game out with those two and they even come up with an alliance name. They are officially The Final 4. Yeah, clever, huh?
So at the nomination ceremony, Nicole names her target, Michelle, and her pawn, Paul. Michelle isn't surprised and James is happy that Nicole stuck to her deal.
Missed tonight's #BB18? It was a busy one complete with yet another alliance. Catch up here: https://t.co/Hmy1hNx14u pic.twitter.com/qkSAXMF138

— Big Brother Network (@bigbrothernet) August 29, 2016