The Big Brother 18 veto ceremony came and went Monday with little fanfare as all parties were feeling safe. Victor's suspicions did kick in throughout the day, however, as he started picking up on changing attitudes, that is when these HGs were actually awake.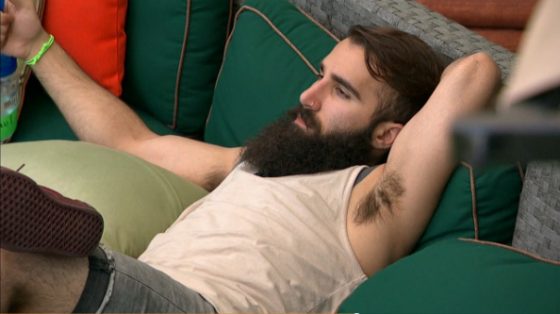 If you've got the Live Feeds (Free Trial) then you can watch all of these moments with the Flashback feature to go back and watch those important conversations or funny scenes you may have missed.
Big Brother 18 Live Feed Highlights – Monday, August 22, 2016:
9:30 AM BBT – Lights are on. Michelle is walking around.

10:00 AM BBT – Paul camtalks saying he knows he and Victor were supposed to be the targets. He thinks Victor will be voted out. Paul pleads for fan support to get the ACP.

10:05 AM BBT – James joins Paul and they discuss ACP. Paul thinks it'll be major. (We know it'll be $5K to give away).

10:10 AM BBT – Michelle asks James about getting called out last night by Big Brother over whatever he and Nicole were offering each other for rewards. (James had offered Nicole $10K if he won and she made the same agreement. BB called them in & they had to acknowledge that was wrong & not allowed.) James denies it was anything major and says they don't have a deal together.

11:30 AM BBT – Feeds are back from Veto Ceremony. Paul came down and Michelle renom'd Corey.

11:35 AM BBT – Paul says he doesn't trust James. Victor is planning to confront James on Wednesday or Thursday so there are no surprises.

11:40 AM BBT – Michelle and Natalie upstairs agree they want Paul out next. They are suspicious of him and don't trust him.

1:20 PM BBT – Victor and Paul discuss what James is going to do. Victor plans to talk with James and warn him his Jury vote is gone if he's flipping on the plan.

2:35 PM BBT – Nicole, Corey, James, and Natalie agree they should tell Victor on Thursday that he's going to be voted out.

2:40 PM BBT – Paul is getting very nervous about this week as he and Victor discuss what they're seeing and starting to worry about.

2:45 PM BBT – Paul and Victor agree they need to warn Michelle the showmances have paired up as F4 if Victor is getting voted out. They want to remind Michelle about James and Nicole getting called out by DR for promising each other something. They think that could be a sign they're working together.

2:55 PM BBT – Victor points out Paul will be on his in the next HoH if Victor goes because Michelle can't play so it'll be Paul vs James, Nicole, and Corey.

3:15 PM BBT – James and Natalie are frustrated with Paul and wanted Nicole up instead of Corey so they had an easier reason to vote out Victor.

3:20 PM BBT – James admits this may damage his chances of getting Victor's vote in a F2 situation. Natalie says she feels good that Michelle is with them.

3:50 PM BBT – Victor tells Natalie that he trusts her and James not to betray him.

4:00 PM BBT – Nicole is worried about a returning Juror and doesn't think that'd be fair to their chances.

4:06 PM BBT – James asks Natalie if she thinks Victor would return the favor if he saved him. Natalie says the only way Victor is going to stay in the house is if he takes out Paul. James says Victor would never agree to that. Natalie says exactly.

5:10 PM BBT – Nicole and Corey are talking about the possibility of another twist. Corey says Victor better not get to come back again.

5:24 PM BBT – Victor mentions talking to the shrink after getting evicted. James says they all have to do that.

5:57 PM BBT – House is sleeping minus Victor. He lowers the awnings and gets a thank you from BB.

6:02 PM BBT – Victor cam talks. Says he has a feeling he's going home this week. He says he doesn't get it because he's never wronged James.
Feed Highlights continue on the next page…