James Huling and Nicole Franzel look to be getting a head start on this week's Care Package prize of the Big Brother Bribe. On Sunday and through the night there were HG discussions of giving each other cash that lead to production calling both Houseguests in and shutting down these talks.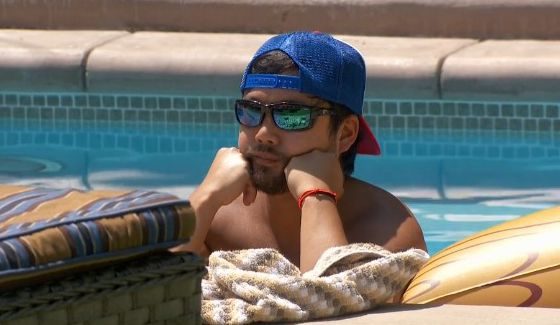 Things started earlier on Sunday afternoon as James and Nicole lounged around the pool. What started as talk about how they'd spend their earnings soon turned in to James promising to send "ten grand, ten grand, ten grand" to their proposed Final Four alliance should he win and Nicole agreed to the same offer. Yeah, you can't do that.
Flashback to 1:10 PM BBT 8/21 on your Live Feeds (get the Free Trial now).
James tells Nicole he will give Natalie, her, and Corey $10,000 each if he won. Nicole agrees and says she'd also send each of them cash except for Corey who would get a gift since he doesn't need the cash and would just return it.
James continues and explains this cash gift would only be given to her, Natalie, and Corey, their Final Four proposed alliance as it's been discussed in recent days. Again Nicole agrees. James says he'll go straight to the bank and send them each a money order, "ten grand, ten grand, ten grand."
Okay, here's the issue. Houseguests can't offer each other cash rewards like this. Whether or not James intends to do so, he is presenting a situation where if they work together and get to the end then there's a financial gain in exchange for Nicole and her ally Corey even if they personally don't win. Or say that if Nicole is in Jury then she's been presented with an offer from James in the back of her mind that if he's the winner then she'll receive ten thousands dollars cash. That's a tempting offer when Nicole tries to decide between, for example, James and Michelle or whoever.
It's an established rule in Big Brother and all game shows like this. The Veteran Houseguests of all people should know this. Huge no-no. Remember last season when Vanessa was offering cash to allies to vote her way? It happens and Big Brother shuts it down. But it took much longer than it should have.
Move forward to 1:43 AM BBT 8/22 to find James and Natalie sitting around the pool. James tells Natalie, "I'm not using this as strategy, but me and Nicole agreed that if we both win everyone in our four is going to get a care package." Natalie asks what he means and the Feeds cut to Fish.
Jump again to 3:51 AM BBT. Production had just called Nicole in to the DR and now she's back with a message. Nicole makes her way to the HoH room to find James, Natalie, Michelle, Victor, and Paul.
"James, we got in trouble," says Nicole. "I have to say on camera I won't buy, I won't get you something nice." Well, she had offered him cash, but okay. James mumbles something in return of a similar agreement and she leaves without any other comment or explanation. Rest of the room is very curious. James knows exactly what the problem is but he's sitting there dropping bricks in his shorts.
Everyone else in the room wants to know what happened but James isn't very talkative about it. They ask James if there was an exchange of safety in return for the promise of gifts. James denies but doesn't want to talk about it.
James is then called to the DR and once he's gone the speculation ramps up. They're guessing and trying to figure out what happened. Natalie is silent and looks concerned. Now don't forget that James had just told her about him and Nicole promising each other a "care package" so I'm not sure what she's wondering but she's deep in thought here.
Michelle jokes that maybe she should put Nicole up now if there's something shady going on with her and James. The Houseguests start talking about how sketchy Nicole is and the things she does without ever getting grief for it.
James returns to the room at 3:57 AM BBT and announces that he is not allowed to buy anything for any of them. Natalie is confused and starts reminding James of all the things he offered to get her if he wins. He tells her she isn't helping right now.
James tells the group that Nicole had promised him she'd take care of everyone in the house. This isn't accurate as it was James who started that talk and Nicole agreed and it was specific to the foursome that James is promoting.
Paul and Victor begin explaining to Natalie why this is not only against the game rules but also illegal. Now I'm no lawyer, but we've heard talk before that it's a violation of some rule set for sure whether it's productions', state, or even federal.
Whatever the specifics you can't do this. James and Nicole know damn well that you can't literally promise each other cash, ten thousand dollars cash, if you are the winner. Come on! Now the dumb thing is James would have Nicole's vote over anyone but Corey and $10,000 isn't going to sway her from that. This was dumb and neither of them should have done it. Now it's out there in some fashion, though he's told HGs it was Nicole promising gifts instead of "ten grand, ten grand, ten grand."
What's your take away here? Should they be given a slap on the wrist or an exit out of the game. Could this damage their position in the game with the other HGs or could it all blow over quickly? I imagine if they knew the full details it'd have a lot bigger ramifications so who knows what they'll think of "gifts" instead. Share your thoughts below.