Things were getting crazy in the Big Brother 18 house Wednesday as the house was all ready to flip and Paulie's game was going up in flames. But then James does what James does and pulled all of our hopes and dreams back down to reality. Will the house flip happen or not? Read on to find out what you think.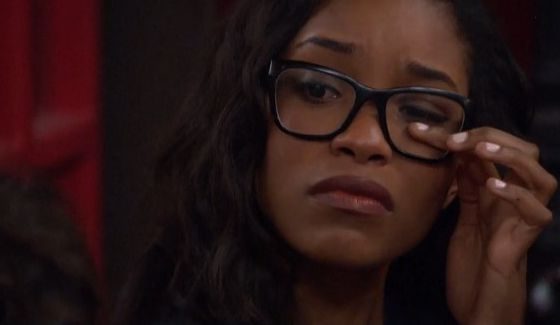 If you've got the Live Feeds (Free Trial) then you can watch all of these moments with the Flashback feature to go back and watch those important conversations or funny scenes you may have missed.
Big Brother 18 Live Feed Highlights – Wednesday, August 10, 2016:
1:45 PM BBT – Corey is the first one up today. You read that correctly. It's nearly 2PM. Many of them stayed up past dawn after plotting to overthrow Paulie's reign over the house.

2:10 PM BBT – Nicole notices batteries were swapped out but was one of the first up. She figures out other HGs must have stayed up late last night. Yep. She talks with Corey to try and figure it out.

2:20 PM BBT – Corey and Paulie now talking about last night and how James told Paulie about things Natalie said Paulie said. Paulie says it's typical "Jersey girl" behavior.

2:30 PM BBT – Corey and Paulie discuss that it still needs to be the 5 remaining guys in F5. They're worried about Paul acting funny and say he needs to calm down and stick with them. Corey thinks if he tells Victor about the Fatal Five alliance and blames Michelle that the guys still go against her even more.

2:45 PM BBT – Paulie goes to tell Zakiyah what Natalie had said to cut off any attempts by her to surprise Zakiyah with the info.

3:15 PM BBT – Michelle encourages Zakiyah to win HoH and mess the house up tomorrow night.

4:00 PM BBT – Bridgette updating Victor with what happened overnight. He's happy to hear that Michelle is staying since that's better for his game. They talk for awhile and are both glad that things are working out in their favor.

4:25 PM BBT – Paul and Bridgette do a quick check in. Paul lets Bridgette know when Paulie started dropping Zakiyah out of the rotation for possible next week targets that was his clue to take action. They toss around duo names and consider Braul. That's actually not bad.

4:30 PM BBT – Natalie and Michelle are planning how Nat should reveal everything to Zakiyah about Paulie's behavior. They're running through scenarios and everything back to the beginning so they can compare notes.

4:45 PM BBT – Paul arrives in HoH to talk with Victor. He lets Victor know they've "been getting boned." He explains that Paulie is trying to take Corey to the end because he's easy to beat and can't win anything.

4:55 PM BBT – Victor is pretty happy about their new arrangement. Paul says they'll be protected because James and the women will need them. Victor wants them to be called the Sitting Ducks.

5:15 PM BBT – Paul with Michelle as he encourages her to blow up Paulie, Nicole, & Corey's game. He's upset over things he's heard they were saying about him. They think she should still do it even though she expects to be staying while acting like she doesn't.

5:50 PM BBT – James and Natalie agree that if Paulie doesn't win HoH then he's going up as a serious target.

6:25 PM BBT – Natalie finally gets Zakiyah in the London bedroom. James pulled Paul out of the room. Natalie starts running through everything. She's telling Zakiyah about what she perceived as advances and uncomfortable comments then on to how he disparaged Zakiyah and her importance for him in the game. This talk goes on for almost an hour.

7:10 PM BBT – Natalie and Zakiyah still talking. She reminds Z that she's playing Paulie's game, not her own. Natalie says she was playing James's game for awhile but now she's playing her own and it's better.

7:20 PM BBT – Talk finally breaks up and Zakiyah heads for the bathroom. Nicole notes to Paulie that Z looked upset. Paulie says Natalie just moved up his hit list.

7:28 PM BBT – Zakiyah is crying and James comforts her. She says she has Natalie's and his back for telling her about Paulie.

7:36 PM BBT – Nicole is trying to comfort Zakiyah now but she's really just defending Paulie to her. She tells Z that if Paulie wanted her out or didn't trust her he would've worked hard this week to send her out.

7:50 PM BBT – Paulie goes to Zakiyah and asks what's up and she says a lot of stuff. Zakiyah tells Paulie what Natalie told her and he's ready to call her out. He keeps saying that's how those Jersey girls do thing.

8:00 PM BBT – Paulie tells Z if he wanted her out he would've put her on the block. She asks if that's supposed to make her feel better. Paulie keeps saying Natalie is a typical Jersey girl.

8:50 PM BBT – Paulie starts saying really personal things about Natalie (he knew of her before the show) and the feeds cut out. And of course he agains references her boob job (he's obsessed with that).

9:12 PM BBT – Corey asks James whose votes he's erasing. He says Corey's and Paul's votes. Corey says oh yeah. James starts to tell Corey things that have been said about Paulie (and here goes the demise of the house flip this week).
Feed Highlights continue on the next page…