The Big Brother 18 Live Feeds on Wednesday were a lot like the rest of the week: Frank and Tiffany tried to shift the target over to Da'Vonne while Corey and Nicole linger in the middle of Frank and Paulie's game of tug of war.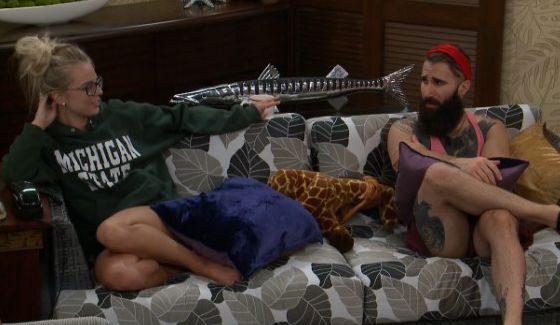 If you've got the Live Feeds (Free Trial) then you can watch all of these moments with the Flashback feature to go back and watch those important conversations or funny scenes you may have missed.
Big Brother 18 Live Feed Highlights – Wednesday, July 20, 2016:
9:30 AM BBT – HGs starting to wake up. Paul and Paulie making breakfast.

10:00 AM BBT – Luggage for noms is here. Da'Vonne is packing.

11:00 AM BBT – HGs back in bed.

11:45 AM BBT – Tiffany is talking to the cams saying Da'Vonne and her made a F2 on day two and she thought Day would have her back but instead Day has been lying all over.

12:00 PM BBT – HGs were called to the HoH room and Feeds went to Jeff Loops.

1:40 PM BBT – Feeds return. No explanation.

1:50 PM BBT – Nicole and Da'Vonne having a private talk. Nicole says she wants to fix the awkwardness between them. Da'Vonne is asking about Nicole's vote.

1:55 PM BBT – Nicole is upstairs reporting to Zakiyah that Da'Vonne must be worried about the two of them getting close.

2:20 PM BBT – Nicole discussing with Corey her earlier talk with Da'Vonne and how things are strange with her. Nicole wants to get Da'Vonne out.

2:40 PM BBT – Corey mentions Day hasn't even asked for his vote. Nicole thinks Tiffany could get the support if she just blew up and started revealing things.

2:55 PM BBT – Frank checks in with Nicole. She tells him Tiffany is going to be evicted. Frank rallies her and says they'll get the votes if she's in. Nicole says she's ready to evict Da'Vonne. Frank promises her his and Bridgette's support.

3:05 PM BBT – Frank plans to inform Michelle last (smart) and Nicole wants to talk with James, but she's worried he's closer to Da'Vonne than they might think. (Considering we know Day worried James yesterday they might not be as close as Nicole fears.)

3:20 PM BBT – Paulie talks with James and wants to get Da'Vonne out, but after Tiffany. Paulie wants Tiffany gone this week then Frank and Bridgette, then Da'Vonne after that.

3:30 PM BBT – Frank mentions he won't say the stupid Big Brother cliches like DR asks him to say. (We heard in Wed's show Frank say "dirt on my hands" instead of blood.)

4:45 PM BBT – James and Natalie engage in Baguette Wars. It's exactly what you might expect.

5:05 PM BBT – Corey and Tiffany talking about the votes. He suggests he wants to help her, but Paulie keeps holding them back. Corey would rather keep Tiffany, he tells her.

5:15 PM BBT – Michelle mentions Da'Vonne made a comment about overwhelming power in the HoH room. Nicole says she won't flip her vote unless they all agree to do it.

5:20 PM BBT – Corey goes to Paulie and they count votes but Paulie doesn't believe Tiffany would target the girls over guys.

5:25 PM BBT – Frank joins and advocates on Tiffany's behalf but Paulie still doesn't want to shift. He's convinced she's just like her sister.

5:35 PM BBT – Frank continues to push that Tiffany is different from Vanessa, but Paulie says they're much more similar than Frank believes.

5:50 PM BBT – Frank promises Paulie that he'll nominate Tiffany if he wins HoH next week. Frank says he'll beg.

6:05 PM BBT – Frank leaves. Nicole arrived earlier and relays that Da'Vonne thinks Paul is playing both sides but asks him not to act weird around Day now that he's heard that. Paul says Day isn't playing her cards right.

6:10 PM BBT – Paul says he's had a weird feeling about Da'Vonne since Day 2. Nicole is begging Paul not to say anything to Da'Vonne about this conversation.

6:12 PM BBT – Paulie tells his group that Frank said if Tiffany stays and he gets HOH he will put her up. They don't believe this.

6:13 PM BBT – Day comes in the HOH room and game talk breaks up.

7:05 PM BBT – Frank tells Corey he still can't believe Paulie wants Tiffany out over Da'Vonne. Frank says he thinks they have the votes and if they make Paul feel secure, he'll vote Da'Vonne out also. Corey tells Frank he's game to vote her out (yes, this same conversation has been going on for four days).

7:48 PM BBT – Michelle and Frank talk. She tells Frank she feels alone because she doesn't have that partner like others do in the house. Frank says he has her and could have Bridgette (what??). Frank tells her that Tiffany might be staying because he's heard the vote is starting to flip.
Feed Highlights for Wednesday night continue on the next page.