We waited all day on the Big Brother 18 Feeds for James and Nicole to have their talk and it finally happened shortly after midnight last night. They needed to make a decision whether to vote out Da'Vonne or Tiffany at the upcoming eviction.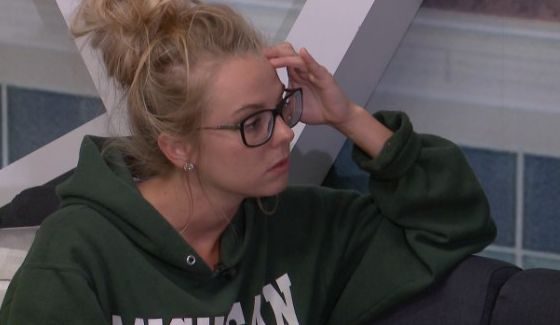 As the talk started both agreed that they needed to have everyone on board so they aren't caught in the middle. James soon admitted to Nicole that he was completely serious about being willing to vote either way. So how did the talk go?
Flashback to 12:11 AM BBT 7/21 Cams 3/4 to find James and Nicole sitting with Natalie. Natalie has "no idea what's going on" so let's just ignore her like the rest of the house does.
Nicole can't tell if James is being serious when he says he would vote either way, but he promises her he is. James says what is best for our game is to figure out who each would team up with and target. They don't particularly think Frank, Bridgette, and Tiffany are going to come after them as opposed to going after the others. Nicole points out that Day has specifically said she was targeting the couples, but James says, "that can be controlled because she's not going to win [comps]."
Nicole worries that if Tiffany stays she could throw the HoH comp and make her vulnerable, but if they save Tiffany then she'd be indebted to them. James doesn't think they could override Frank's controls.
Here's yet another bizarre concern. Nicole thinks if they keep Da'Vonne in the house then she'll team up with Frank. That's the second time we heard that with Paulie making the same suggestion earlier that evening. They are listening to Frank actively campaign to save Tiffany while desperately wanting Da'Vonne out, but some of them are worried that if they keep Da'Vonne she might work with Frank? I feel like I'm taking crazy pills! Tiffany has one win. Da'Vonne has zero wins. Tiffany is working with Frank. Da'Vonne is targeting Frank. Tiffany has demonstrated the capacity to win and work with Frank. Hurts my brain.
James suggests "fool me once" and that's all it takes. Nicole relents and says they should just vote Tiffany out and move on. She says this is Tiffany's third time on the Block and third time is the charm so "lets get her out of here." They talk about chances of winning comps and agree that Tiffany has more of a chance to win power than Day.
Here could be the clincher. James points out that sending out Tiffany will "cripple Frank" and forces him to do what the house wants with limited support otherwise. They'll have an easier time working with and influencing Frank with fewer tight allies around him, James suggests.
And with that Nicole heads off to let Corey know the decision. He still doesn't like it and meets back up as a group with Nicole, James, and Natalie. Flashback to 12:27 AM BBT as Corey continues to argue in favor evicting Da'Vonne.
Corey keeps telling James that Day has it out for the guys and while she might initially target Frank and Bridgette she'll next turn to Corey or Paulie as a backup target. He's also convinced that Da'Vonne would never vote for a guy at the end and suggests Day has it out for the guys.
James remains unswayed and begins to argue that if they keep passing up their chances with evicting Tiffany then it's going to come back and bite them and they'll have no one else to blame. Along the way in this talk Corey gives in and says fine, he'll vote out Tiffany, but he's clearly not happy about it and wants them to agree that they send Day out in the next 2-3 rounds.
So that's all done and decided. Right? Oh, here's James in the closing telling Corey to let him know if they change their mind. Oh good grief. Go to bed you knuckleheads.