After a slow start to Veto day things picked up for the Big Brother 18 Houseguests on the Feeds as backs were against the wall with nothing to lose. Those are our favorite kind of Houseguests! Read on to find out how the Veto comp went and what made it messy for the winner.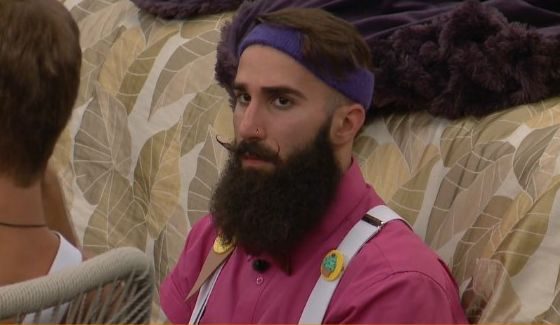 If you've got the Live Feeds (Free Trial) then you can watch all of these moments with the Flashback feature to go back and watch those important conversations or funny scenes you may have missed.
Big Brother 18 Live Feed Highlights – Saturday, July 16, 2016:
8:15 AM BBT – Houseguests got an early wake up call this morning, but no one is stirring.

9:15 AM BBT – Have-Nots revealed. Team James (James and Natalie) will be eating Slop with beans, bread, and basil.

9:50 AM BBT – James and Natalie cuddling in a HN bed. Natalie makes her daily mention of Victor.

11:00 AM BBT – HGs lounging around waiting around for Veto events.

11:55 AM BBT – Frank says Nicole and Corey are reminding him of Shane and Danielle from BB14 and how they lied to him all the time.

12:00 PM BBT – Frank thinks Michelle will join their vote on Thursday. He still doesn't get that she's against him.

12:20 PM BBT – Feeds return from picking the extra players. Da'Vonne and Paul will be joining the fun.

12:25 PM BBT – HGs preparing for how to play the dice game (which it didn't end up being).

12:50 PM BBT – Zakiyah is annoyed that Paul was helping Natalie prepare for the dice comp. He's sure she wouldn't use it if she won.

1:05 PM BBT – James tells Michelle they're low in the priority list for their group since the showmances will go against them first.

1:15 PM BBT – Michelle tells James they should get Bridgette out before Frank to isolate him even more.

2:35 PM BBT – Nicole and Corey worrying about Frank and needing him not going after them.

2:41 PM BBT – Feeds cut for the Veto comp.

5:21 PM BBT – Feeds are back. Corey won the Veto.

5:25 PM BBT – Corey is frustrated because people seem upset at him for winning since he'll use the Veto on himself and no one feels safe from being the next RK renom.

5:30 PM BBT – Paul starts detailing how safe Corey would be if he didn't use the Veto on himself. He suggests it'd confuse the other side. (I think Paul doesn't want to be a renom.)

5:35 PM BBT – Da'Vonne arrives in the HoH room. She says she trusts the group and expects to go up so her game is in their hands.

5:40 PM BBT – Paulie thinks he can coerce information out of Tiffany by telling her her game is over already, then he decides he'll do it by saying they'll save her. Natalie mentions the comp was hard for her since they were moving things that were big and she's small.

5:45 PM BBT – Zakiyah apologizing to Corey for being upset that he won the Veto. She admits she was just worried about being the renom.

5:45 PM BBT – Upstairs Paulie shares his Blue Moon beers with the group.

5:46 PM BBT – Natalie mentions "they" gave her "new meds" and she hopes they don't… Feeds cut to a diff room.

5:50 PM BBT – Da'Vonne checks in with Tiffany and asks who will go up if Corey comes down. Tiffany declines to answer. Day leaves. Tiffany says that was shady and tells James that Day is playing all sides.

6:00 PM BBT – Tiffany tells Frank she'll put up Day and wants to reveal the Fatal Five alliance and everything else that has been going on.

6:10 PM BBT – Paul is now downstairs talking with Frank and Tiffany. Tiffany telling Paul how someone screwed her over in the game. Frank is trying to flip Paul by saying he's not part of the core group with his alliance. Frank explains the Eight Pack and Fatal Five alliances.

6:25 PM BBT – Paul goes back to Corey and James and tells them he'll be a spy with Frank and Tiffany. He says they're telling him lots of information.

6:35 PM BBT – Frank is now upstairs with Paulie and Zakiyah. He is advocating targeting Da'Vonne without directly naming her. Paulie is much more concerned about Tiffany and says she's too much like her sister.

6:50 PM BBT – Tiffany working on Corey. She says it's Day that wants Corey out, not Frank. Tiffany says Da'Vonne suggested that Corey be the RK nom. Corey wants Tiffany to smooth things over between him and Frank.

6:55 PM BBT – Paulie is adamant that Tiffany must go this week. Frank continues to push back.

7:10 PM BBT – Day returns to the HoH room. Paulie updates her on what Frank was saying.

7:30 PM BBT – Corey asks Da'Vonne and Zakiyah about the Fatal Five alliance that Tiffany revealed to him. Both ladies deny the FF.

7:40 PM BBT – Paulie and Zakiyah trying to figure out the numbers since Tiffany continues to suggest she can flip the vote when five are needed this week.

8:30 PM BBT – Nicole is crying because she thinks Corey is mad at her because she doesn't want to be the renom when he uses the Veto.

8:35 PM BBT – Paulie says he wants to go up on the Block against Frank next week so they can fight it out.

9:00 PM BBT – Corey retells Paulie what Tiffany was telling him. Paulie outright dismisses all of it because it came from Tiffany. Corey warns Paulie that Da'Vonne will be the renom. Corey tells him about the FF, but Paulie denies it. Corey again insists and says even Nicole confirmed the FF to him.

9:05 PM BBT – Corey and Paulie say they can't trust Paul anymore because he's running info back.

9:15 PM BBT – Paulie understands now that they can't trust Day. He wants to use Frank to get her out.

9:20 PM BBT – Paulie discusses with Corey and Paul that they can be the Final 3 together.

9:35 PM BBT – HGs have the backyard again.

9:50 PM BBT – Nicole is still upset. Corey says he knows about her F2 with Frank. Nicole denies it.

9:55 PM BBT – Corey tells Nicole what he learned from Tiffany and they agree that she's telling the truth about Da'Vonne.

10:10 PM BBT – Nicole and Corey are happy again chatting about other things.

11:00 PM BBT – James mentions he doesn't really talk with Meg anymore because of a falling out.

11:10 PM BBT – James warns Natalie to be careful around Paul and he's not to be trusted.

11:20 PM BBT – Michelle thinks Tiffany has given up hope to stay this week.

11:30 PM BBT – Natalie again having her daily Victor discussion about him dumping her at the start of the show.

11:35 PM BBT – Nicole is worried there could be a Pandora's Box and Zach will be in there.

11:55 PM BBT – Paul is trying to decide what people think of his use of "friendship" over and over. (He has no concept of BB6.)

1:00 AM BBT – Da'Vonne tells Natalie and James that Tiffany is planning to put her (Day) up on the Block. Day tries to undermine Tiffany's info sharing by denying in advance that she was in alliances with different groups. James mentions the Fatal Five alliance.

1:05 AM BBT – Day tells Natalie that Bridgette said Nat and Bronte were a mess and had to be calmed all the time. Now Natalie feels less trusting of Bridgette.

3:15 AM BBT – Corey was somewhat sleepwalking. He came in to the HN room and asked if Natalie was yelling. HGs try to calm him and send him back to bed. It was pretty mild.
Corey has got to use the Veto. I don't see him not getting off the Block. Day will go up and Tiffany's under the gun to get the votes flipped against her instead. Seems like a very tall order but she's got several days to make it happen.
You can watch all of these Big Brother events using the archives Flashback, the DVR-like feature of this year's Live Feeds which means it's always live, even when you missed it! Sign-up now to get the free trial to watch it all live & uncensored.

click images to see full-size