Tonight on Big Brother 18 (8/7c) the Houseguests face a new competition when the BB RV rolls in to the backyard and everyone tries to avoid become the next "Roadkill" of the summer.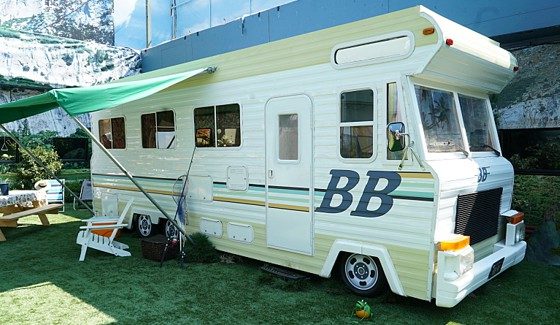 When things left off on Thursday night Nicole, the appointed HoH from her team, had just nominated Jozea and Paulie with the former as her real target. But hold on to those pawn plans, Nicole, because it's about to get a little more complicated with this new twist.
Taking the place of the old Battle of the Block competition, this new challenge will send every Houseguest out to the backyard one at a time for their turn inside an RV custom fit to test their skills at quickly changing clothes. It sounds like a silly game, but there's a lot at stake.
Whoever wins this competition will get to name a third nominee. So yeah, it's important and it all comes down to how fast you can get your clothes off and then back on.
Can't wait to find out who wins the new comp this week? Check our spoilers page for results.
click images to see full-size views
Normally this would just be part of the Sunday show but since Nicole's nominations were squeezed in to Thursday's events we'll get more time to see this Big Brother Road Kill competition introduced. Then next week I think we'll go back to Sunday's shows featuring both the noms and the RV.
Join us back here at 8/7c and chat live with other Big Brother fans throughout the show. Want even more Big Brother? Download our Big Brother App, join us on Facebook & Twitter, then get our Email Updates too.
https://youtu.be/uUnA7PdAapk