It's been the summer of showmances on Big Brother 18 as we're about to be down to three pairs with two of them having at least some level of romantic interest between them, at least in one direction. As for Nicole and Corey though, it sounds like their summer showmance could end with the season.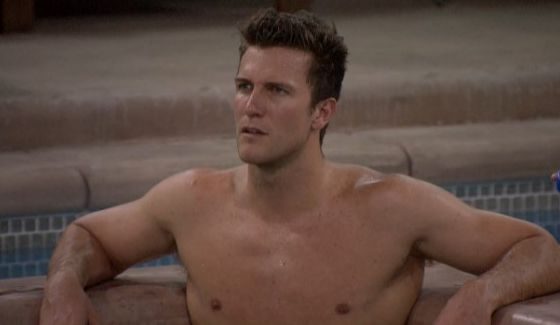 Last night Corey spent some time with Victor in the hot tub and both shared their thoughts on the upcoming wrap party and what Corey expects to be happening with the relationship between him and Nicole when the season wraps.
Flashback on your Live Feeds to 7:58 PM BBT 8/29 as Nicole steps away from the hot tub and Victor asks Corey if he's fighting with Nicole. Corey says they've been having a few back and forth's today which have mostly been "Are you mad at me? Why are you mad at me? Are you sure nothing is wrong?" Nothing too serious, he explains.
Corey tells Victor that he's concerned Nicole will get worried that they're not hanging out 24/7 anymore like they have been, but he'll encourage her to come visit and he'll want to come visit her, but as for a relationship between them at the end of the season? Outlook not so good. Flashback to 8:06 PM BBT.
"I'm not going to come out of this place in a relationship," says Corey. "I'm sorry. We can talk. I'll tell people, 'yeah, me and Nicole are cool,' but it's not going to be anything like with Hayden. I think that she thinks it has to be better than her and Hayden as soon as we get out of here and I'm like 'no no no no no'."
Corey had just been explaining to Victor that he and Nicole "will be friends forever" and how Nicole and Hayden had gone from showmance, to Jury House relationship, to serious relationship outside the house. He adds, "look at how that ended. You don't want to make that same mistake twice."
Corey tells Victor he wants Nicole to "go do your thing" and he expects "there are going to be so many cool guys hitting you up." Not that there's no chance of them though as Corey notes, "if it works it works, if it doesn't it doesn't."
So what do you think of Corey's comments? Could Nicorey be over when the confetti falls on September 21st or will Corey change his mind before then? And he made a good point that both Nicole and he had just gotten out of long relationships, so maybe Nicole feels the same way. But either way I'm not convinced we'll be seeing repeats of the Haycole photo streams like we saw after BB16.
Share your thoughts below and tell us what you think of Nicole & Corey's showmance and post-season chances.