It was another quiet day in the Big Brother 18 house as James, Natalie and Michelle continued to just assume that Michelle is safe this week. Meanwhile, Paul and Victor continued to hang out with Nicole and Corey, barely hiding their alliance.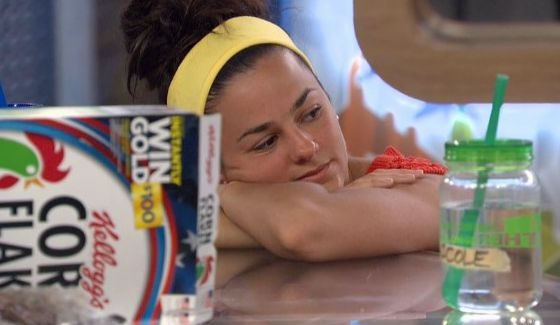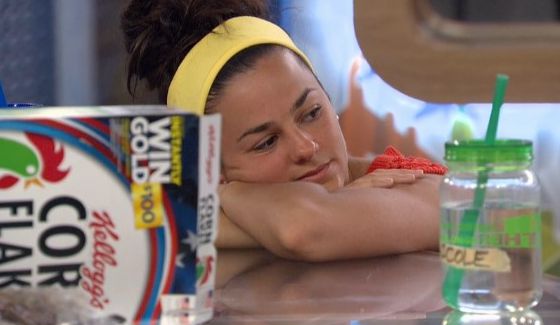 If you've got the Live Feeds (Free Trial) then you can watch all of these moments with the Flashback feature to go back and watch those important conversations or funny scenes you may have missed.
Big Brother 18 Live Feed Highlights – Tuesday, August 30, 2016:
11:30 AM BBT – Natalie is the first HG awake and goes to get some sun.

12:00 PM BBT – Nicole has the HoH camera.

12:20 PM BBT – Nicole going around taking photos. HGs called inside for a lockdown so BB can fix something in the backyard.

2:00 PM BBT – HGs wondering if the wake up songs have anything to do with the game or upcoming challenges. Some of the songs were about bears. (Maybe BB will let a bear loose in the house and last one standing wins the comp and season…)

2:20 PM BBT – James and Natalie start planning wins for the next comps and how they'll need to beat Victor. Their plans involve Paul being gone and Michelle still being here. James remains clueless.

2:40 PM BBT – Victor and Nicole hanging out chatting. Victor says he's ready to go home when the show is over while others are talking about staying in LA longer.

3:00 PM BBT – Victor cam talking strategy. He'll be sad to see Michelle go because he likes her but she's with the wrong crowd. Victor hopes he can win HoH to get revenge and put up James with Natalie.

3:10 PM BBT – Victor is doing a BB Nature Watch mockumentary as he goes around the house observing HGs and commenting on them.

3:35 PM BBT – Natalie is stressing to James with worries that he'll take the BB Bribe to throw the comp. She says he needs to try and win the comp even if he doesn't believe he can. They discuss how Michelle can help them win the mental comps and worry about Michelle being put up on the Block in the next few rounds. Natalie wonders if Corey would keep Paul and then bribe him to take a fall in the HoH comp. James doesn't think that'd happen because then Nicole and Corey would also have to be competing against Paul and Victor as another power couple.

3:40 PM BBT – Natalie worries that Victor will put the two of them up but James thinks he can get Victor to go after Corey and Nicole instead after suggesting they have a F4 together.

3:45 PM BBT – James had overheard Victor camtalking earlier and is trying to figure out what he might have been saying. He and Natalie wonder if he was just studying the days and events.

5:06 PM BBT – Natalie complaining about James scaring her earlier. He says it seems that a lot of what he does lately upsets her.

5:30 PM BBT – James and Natalie continue to talk. He's been trying to put her in a better mood. Eventually she seems to be in better spirits.

6:42 PM BBT – Victor and Paul discuss the showmances and how they made it this far in the game. They wonder what America thinks of that. Talk turns to which if Nicole and Corey they prefer in the final 3 with them. Victor thinks Corey is easier to beat with mental competitions.

6:47 PM BBT – Paul says that James is on his nerves this season and that he just rubs him the wrong way. They discuss who from the season they'll talk to or hang out with after the season.

6:52 PM BBT – Victor and Paul discuss Jozea and agree they like him but they can't let that be known because no one in the house cares for him. They talk about how great Glenn was and are upset he was booted.

6:56 PM BBT – Paul tells Victor he hopes they aren't being stupid to trust Nicole. Victor tells him that's just paranoia talk.

7:15 PM BBT – Victor says Michelle win probably win America's Favorite Player. Paul does not agree.

8:28 PM BBT – Paul tells Nicole that Michelle wants to know if she's getting evicted so she can wear a nice dress. Nicole says she doesn't even know if she wants to tell James that Michelle is going.

8:35 PM BBT – Nicole and Paul agree that they're happy they're working together now after being on opposite sides earlier. They talk about how one of their four need to win HOH. Paul says it will happen.

8:40 PM BBT – Nicole says it's so weird that James still hasn't approached her about what she wants to happen this week (James has been saying he'll talk to her Wednesday night).

8:42 PM BBT – Michelle tells Natalie that Victor makes the whole season seem unfair. Natalie says they evicted him twice so they tried to get him out.

8:48 PM BBT – Paul makes fun of James talking about how great the players in Season 17 were.

8:57 PM BBT – The Final Four talk about Paulie and how strange he was. Corey says he felt bad for Paulie because of all the tears and stories, but he knows now that was all fake.

9:06 PM BBT – Paul is still worried about this week, but Victor promises him he's good.
Feed Highlights continue on the next page…