Looks like the Big Brother 18 showmances could be on the rocks this week after we just got through listening to Corey explain why he and Nicole wouldn't last and now we've got James telling Michelle he doesn't know what's going on with Natalie.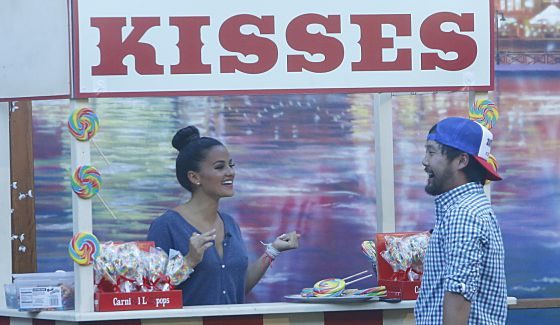 James and Natalie have had an interesting relationship this season but they've stuck it out for most of the season after her initial showmance attempts with Corey and Victor were shot down. Now as we approach the end of the summer James seems to be questioning the authenticity of Natalie's interest in him.
Flashback to 4:50 AM BBT 8/31 this morning as James and Michelle are still awake and chatting in the bathroom.
James is telling Michelle how things are getting hot and cold with Natalie and he's not sure where they're going. It hasn't been lost on James that he's third in line for her couplings this season. He knows the affection has been mostly one sided but compares this season with the last as Meg wouldn't even share a bed with him and there was no cuddling like he does with Natalie.
There's no surprise here that James may feel confused. Earlier on Tuesday evening Natalie was telling James how he meets so many of the criteria she was looking for with him being in his 30's, sweet, attentive, and the list went on. But as James explains it to Michelle, "actions speak louder than words and since I haven't been getting any action it's hard to just go off words." Heh. "I feel like I'm always the one chasing her, getting in to bed with her," adds James as he describes his confusion.
Watching them during that time on Tuesday we saw Natalie laying in front of him while he rubbed her back and leaned in several times for a kiss but she declined before finally offering her cheek. James excitedly said to the cameras for viewers to screen cap the kiss.
James tells Michelle that his relationship with Natalie peaked weeks ago and has been going downhill ever since his HoH week. He tells her there are good times and bad, "but it's never consistent."
As the talk goes on James shows he realizes Natalie has been impacting his game. He says he's been sad but not about the game. James has been sad about Natalie. "Natalie has been my Krytopnite," he explains to Michelle. "I don't mean this in a bad way, but if Natalie had never been here I probably never would have been sad," says James and suggests he would have been having more fun this season hanging out with the other guys instead of trailing Natalie the whole time.
The pity party continues as James questions what sets him apart from his relationship with Natalie when compared to any of the other guys. Michelle tries to encourage him by saying they cuddle and are cute together. James admits he might just be overreacting but you can tell he doesn't feel too encouraged about things between him and Natalie right now.
Other Houseguests have speculated that Natalie is leveraging James's attention for gain in her game as have plenty of viewers, but it's hard to be sure either way. Natalie certainly spends a lot of time with James and her interest at times does seem genuine. No denying it though that Natalie has helped her game while being by James's side. We've even recently heard from James that he'd lay down his game to advance hers since he's planning on winning AFP while she could try for the grand prize. Yikes.
What do you think of the situation? Share your thoughts below on James and Natalie. Is their showmance real or is this more of a fauxmance leading James along on Big Brother 18?