Frank Eudy had been working hard all Sunday to call a good ol' Big Brother house meeting when he finally managed to make it happen deep in to the night, but it didn't take but another moment before Da'Vonne Rogers found her way in as well and put a wrench in his plans.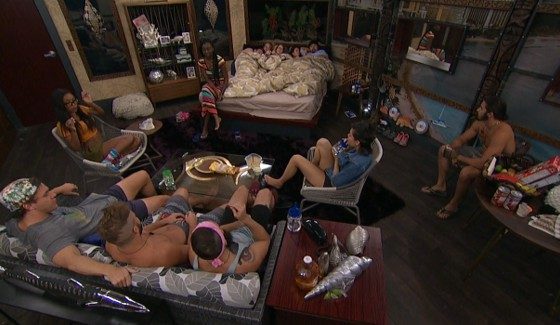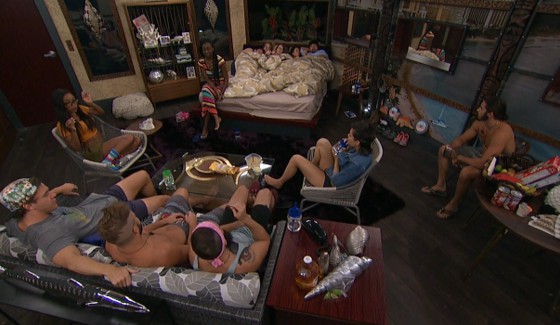 Hoping for a chance to convince his fellow HGs or at least get everyone on the same page Frank brought everyone up to the HoH room, but when James shouted over the railing "House Meeting!" Da'Vonne was sure to join in. By the end of the stalled talk the group's plans were revealed.
Flashback to 3:01 AM BBT 7/25 on your Live Feeds as everyone files in to the room.
The entire house shows up but now that's the problem and no one will talk with Day in the room. James tries to get Paul to start things off but nothing. So not even the HoH wants to take the leader role on this one. Da'Vonne repeatedly asks what's going on and why everyone is up here. No answers.
Finally Day takes over and asks why everyone was called up to the HoH room. Frank says not everyone was supposed to be here. She correctly identifies herself and Zakiyah as the two that he must not have wanted. Paul suggests they stop playing stupid and just discuss this.
Finally, at 3:12 AM BBT Frank announces, "I want the Power of Veto used and I want Da'Vonne to go up in my place."
Day says the Veto won't be used. Frank asks how she can know that's true. Michelle calls for a verbal vote and there is silence. Frank says no one would admit to wanting Day out with Day there in the room.
Da'Vonne suggests it's time to get the truth out so they can move on and just enjoy Monday. Frank says that's not what the game is about and not what people at home want to see. He expects her to know that and she says she does.
Knowing that Frank is coming after her, Da'Vonne says she respects what he's trying to do, even at her expense, and if he had just rolled over and died that'd be bad. Frank replies, "no s**t!"
Da'Vonne jokes that she knows what he's been trying to do all day and has been crashing his attempts all day too. Frank asks if she's 100% sure that the Veto won't be used then why does she feel the need to keep blocking his talks.
Frank offers that he'll stop campaigning right now if it's making everyone uncomfortable like Day suggests it is. Silence. Day says no one will admit to that with him in the room. That's his point too about them wanting her out, Frank exclaims.
Frank points out both he and her think there's a truth here, but there can't be two so which is right? Day says either everyone is playing stupid to her or they're playing it to him.
Paulie finally stops hiding in the bathroom, which HGs later note was shady, and comes out to tell Frank that he doesn't like how this was handled and wanted it done privately.
Paulie tells Frank so he could "stop making yourself look like an idiot." He tells Frank it's not going to happen. Frank takes issue with being told campaigning makes him look like an idiot. Paulie says that was the wrong word to use.
Paulie again confirms: "it will come to no avail" if Frank continues his efforts.
Michelle finally speaks up and says that no one is voting out Day even if she goes up as a renom. She says Bridgette would go home if Frank isn't up there. (Isn't that what Michelle would prefer?)
Frank says the Houseguests here don't have a backbone. He thanks Paulie and he thanks Da'Vonne for having a backbone.
The meeting ends at that point (3:21 AM BBT) and a few HGs start to filter out including Paulie, Victor, Zakiyah, and Frank. They all head downstairs.
Back in the HoH room Michelle expresses frustration that people are telling Frank they will vote out Da'Vonne if they won't. She says she told Frank the truth and wonders why they can't too.
Downstairs Frank asks Paulie who is going home. "They want me?" Paulie confirms it to Frank.
We've known Frank was the target for weeks, but he's continued to believe he had support around the house as HGs continued to deceive him over their true intentions. Now it's out there and he'll have to decide whether or not to campaign against Bridgette or roll over and die. What do you think he'll do?