By the end of the week for Big Brother 18 I expect we'll be down to six Houseguests consisting of three pairs and a struggle for each to make it to the end. Let's take a look at where the targets lie.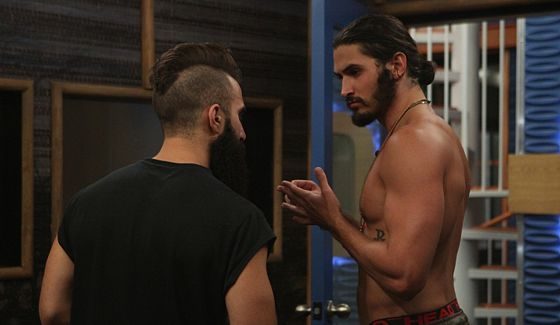 Michelle and Paul are on the Block but while Michelle is getting lots of promises of safety from James the outlook isn't good for her chances and she'll likely be voted out by Nicole on Thursday night. With Michelle gone the only HGs remaining will all be working as duos as we wait to see who comes out on top in this next round.
Paul and Victor, Nicole and Corey, and James and Natalie. These few HGs are lining up to be the Big Brother 18 F6 HGs, something that's taken more than two months to achieve but now with just three weeks left they'll be barreling through the final steps.
Right now we've got Paul & Victor working together with Nicole & Corey, but secretly Nicole & Corey are hoping that the other two couples will end up taking shots at each other and forgetting all about them next week. Sure, there's a good chance that'll happen since both pairs have expressed the other as their target instead of Nicole and Corey. But don't forget that if James wins HoH and Paul & Victor go up and one gets the Veto then someone from Nicole & Corey would need to go up. They'd still probably be safe though because in that particular scenario we'd see Paul, Nicole, and Natalie voting and I doubt Natalie would team up with Paul over Nicole.
There's going to be so much decided by this next HoH comp and Corey will be the only one playing for his pair since Nicole is the outgoing HoH. As for Natalie and James, they'll both be playing but James had toyed with the idea of taking Corey's BB Bribe to bail on the comp. Natalie has since made James promise he wouldn't do that so we'll see what Corey figures out to do with his Bribe later.
Really Corey should have moved quickly to secure James's agreement to not participate in the next HoH comp but now he's waited too long and James is slowly, slowly catching on that something may be rotten in Denmark. Now with that chance shot we'll see both James & Natalie lining up next to Corey then Paul & Victor for the chance at safety and control over the next eviction.
Should Paul and Victor take control then we can expect James and Natalie to go up on the Block but if those guys want James out then that's going to be tricky. Nicole & Corey have agreed that they want Natalie, not James, out first from that pair. To ensure James goes then Paul and Victor need to end the week with James and either Nicole or Corey on the Block to make sure the other from the Nicorey pair votes out James to send him off to Jury. Otherwise we can expect Natalie to go.
If James or Natalie wins HoH then we'll get Paul and Victor on the Block and, as I described above, one of them would go. If both of the guys are still on the Block at the end of the week then I think it could be Victor voted out since he's seen as the more physical threat of that pair.
Now if Corey snags the win then I think he'll also put James and Natalie up since he's talked with Nicole at length that they want to go to F4 with Victor and Paul instead of Natalie and James. In this case we could expect Paul & Victor to join votes and evict James.
Really I don't think the two opposing couples would target Nicole and Corey first and so there's not much of a chance the pair will end up on the Block together which means they can expect to head in to F5 as a pair. Now maybe James and Natalie decide they've been so betrayed by Nicorey with Michelle's eviction that they turn their sights on them, but I doubt James would do that and Natalie seems more worried about Victor these days.
We've definitely got a good game ahead in these last three weeks of Big Brother! Which of these couples do you most want to see survive the F6 round? Share your thoughts on who is in the best position and vote for who you want to see make it through to the next week.