On Sunday we watched the Feeds as Frank made his rounds and worked on getting Tiffany pushed to the outskirts of their Eight Pack alliance. She's on Frank's radar and he isn't going to let this idea go anytime soon. The bad news for Tiffany doesn't stop there though, but she might not be alone.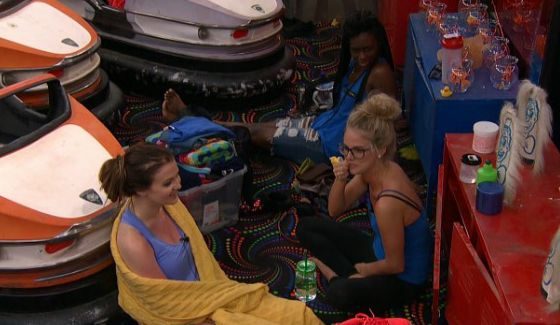 Last night Da'Vonne and Zakiyah were talking in the Have-Not room about their way forward and the structure of their alliance, not the Eight Pack alliance, but their subgroup, the Fatal Five. Make that the Fatal Four.
Flashback to 3:06 AM BBT 7/4 on your Live Feeds (get the Free Trial).
Zakiyah tells Day that she doesn't even bother calling it the Fatal Five anymore. It's just the Four. That would be Day, Zakiyah, Michelle, and Nicole.
Rewind a little for more backstory on Tiffany's status in the group. 8:55 PM BBT 7/3 Cams 1/2, Day is in the HN room with Zakiyah and Michelle. They're discussing the guys getting stronger and know they need to watch out for that, but Day is worried that Tiffany is coming for her.
Day tells Michelle and Zakiyah that for now they can back off and let others in their group win HoH to keep the target off their backs. That would give Frank and Tiffany the chance to go after each other which would let them not worry about the problem themselves. Day actually gave this idea a little push in a later talk with Tiffany when she suggested Tiffany might want to win HoH and take Frank out.
Jump forward to 9:10 PM BBT as Nicole joins the room. She reiterates what they already know, Frank wants Tiffany out right away. The group is also worried about Paulie getting more entwined in their circle and wonder why Frank thinks Paul deserves a pass next week.
They're repeating a lot of the same ideas we've heard recently, but the takeaway here is the four ladies do seem solid together. Of course these things do change rapidly in Big Brother. Should they decide to explore working with the Spy Girls then they'd be well positioned as a force in the house. But as Day pointed out later in her talks, they've got the Eight Pack for now and that's a good place to be.
Tiffany remains in the overall Eight Pack, but the group's trust in her from its individual corners has eroded. If they knew Tiffany was pitching all-girls alliances to the Spy Girls side of things the tension would quickly crank up at least from the guys. Like I said before, it's a risky time for Tiffany especially being on the Block and vulnerable this week, but if she gets through it as I expect she will, then she'll need to start making moves and not just talking about them.