Yikes. Things are looking pretty ugly both for Paulie Calafiore's chances on Big Brother 18 at the moment and his recent behavior as last night continued to reach new lows as we nearly had a full House Meeting shy of one Houseguest where Paulie took on Natalie and Bridgette.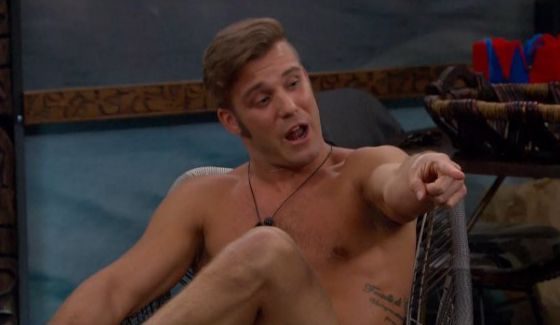 Setting things up for a hectic overnight we had Natalie going to Zakiyah earlier in the evening and revealing things she didn't like that had been going on behind Z's back. Paulie knew this was coming and soon it was a battle of words between them.
If you need to catch up on that first conversation between Zakiyah and Natalie then go to 6:25 PM BBT 8/10 but it's an hour long so get ready. Natalie tells Z that Paulie had been hitting on her and made her uncomfortable. Not only that but Natalie tells her he had been routinely disrespecting Zakiyah both as a person and how he was using her in the game. True or not for any of these comments, that is what Natalie said and what set us up for the later face off.
As the night was starting to wind down for Natalie she said goodnight to HGs including Paulie who responded with "we all know you're as fake as those things on your chest." (Flashback to 12:58 AM BBT 8/11 Cams 1/2) Ugh. Paulie tells Natalie that no one is buying what she's selling. Natalie tells Paulie, "it really doesn't matter what you think of me" and then leaves.
Bridgette soon finds out about Paulie's comments and she goes upstairs with James to confront Paulie who is in the HoH room with Victor, Paul, Corey, and Zakiyah. Jump to 1:46 AM BBT to watch this start off. Natalie will later join leaving only Nicole out of this meeting.
James asks what's going on and Paulie proudly retells his "fake things" on Natalie's chest comment. He adds that Natalie has been lying about her chest "for 50 some days." Seriously? Everyone please be sure to submit your health records in a timely fashion so Paulie can review and approve everyone's personal life choices.
Bridgette jumps right in and says this was a personal attack by Paulie while he says what Natalie did was a personal attack on him. Bridgette counters that Natalie did what she did because she thought Zakiyah should know and not as a personal attack on Paulie. Paulie says he's helping James by exposing Natalie's lies and he thinks Natalie should "keep her mouth shut."
James tells Paulie things need to be kept on a game level and this wasn't. Paulie tries to excuse his "fake" comment saying it was a metaphor for "her fakeness." Bridgette is shocked and replies simply with "nice one, Paulie. Nice one."
Paulie starts to stare down Bridgette who asks why he's doing that. Paulie continues and says it's a sign of respect during conversation and if she's done then he'll stop staring at her. He's trying to intimidate her and it's coming off like a real a-hole.
Paulie wants Natalie to apologize, he tells James and that's perfect timing because here she comes. Natalie joins the room at 1:54 AM BBT.
Paulie starts in saying that Natalie has been going around the house flirting with all the guys, but why is she calling him out on things she says he's done to her. Now keep in mind that Paulie seems to think that Natalie only told Zakiyah about his flirting with her. We know that Natalie also told her what he had said about using Z as a pawn, not caring if she stayed or go, and not being interested in dating her after the show, etc.
The circle talk continues and Natalie brings up how Paulie made her uncomfortable with comments like how they could kiss under the bed and Zakiyah or James wouldn't see them and how he told her to put her "booty" away. Paulie says he talks like that to all the women. But wait, there's more…