Now I like Da'Vonne. Especially all the pretty colors from the flames surrounding her game. Today was no different when she sat down with James and whispered to him they needed to target the Big Brother 18 showmances. Oh, but not yours James. No, you're fine.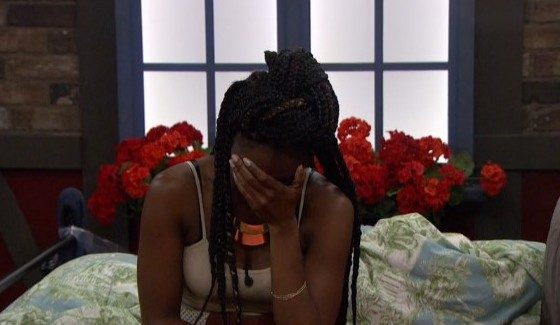 Earlier today on the Feeds we watched as Nicole, excited like a schoolgirl over her homeroom crush, told Zakiyah how things were progressing nicely with Corey who was wanting more from her. (11:37 AM BBT) Zakiyah replied with open envy that she wasn't getting as much from her showmance, Paulie. It's hard to guess which Big Brother showmance will get the last rose, but others are starting to worry.
Even before that we listened to Paul and Paulie discuss whether or not Nicole would put up Corey or even vice versa. (10:30 AM BBT) Paul sounded surprised that Paulie didn't think Nicole would put up her "dream guy." Hey Paul, maybe you should consider how your new ally is in a showmance with Zakiyah too. In the words of Admiral Ackbar, "It's a trap!"
Showmances were quite the topic this morning and it came down to Da'Vonne to raise the red flag that something needed to be done about them. But maybe she needs to consider her audience.
Flashback to 11:47 AM BBT 7/19 Cams 3/4 to find Da'Vonne with James in the living room. After Zakiyah leaves the room Day turns to James and whispers, "we have got to cut those showmances off." James asks, "which ones?" Day: "the four." James protests, "I'm in a showmance!" Day: "Not you. The four." [Zakiyah, Paulie, Nicole, and Corey.]
Day says she listened in on showmance talk last night where there was talk of "the love of my life" when she realized "they're never going to choose one of us" over one of them. James asks, "Paulie and Zakiyah?" Day replies, "all of them."
James must be a bit concerned and says he might not have room to talk. Day says James's situation is different because "you said you had no problem cutting her off." James says yes, but "when the time is right." Day breezes right past that warning sign.
James continues to worry. He says he knows it's going to be trouble but he hopes people aren't going after showmances just yet because he knows he and Natalie are on that list. "You're on the bottom," assures Da'Vonne. Ohhh, well in that case… Sheesh.
Da'Vonne is actively on the Block with an effort working against. James is already on edge with the fear of someone not only cutting his last teammate but also his romantic interest that he desperately wants to get to Jury to insure a shot at secluded fun if he's voted out. Meanwhile you've got Day telling James that showmances are a problem and need to be dealt with immediately. What is she thinking?
I've already pointed out that James could be Tiffany's path to avoiding eviction and if Day keeps giving him reasons to fear her then at the worst he votes her out this week but at best he becomes more willing to eliminate her to protect Natalie.
I don't know if James will run this right back to Nicole or even mention it this week, but if he's in a pinch you know he'll use it against Da'Vonne as he should. Day is a very observant player, but just like last year, she doesn't know when to observe and report and when to simply observe. Let's see how this time plays out.