Earlier this Big Brother 18 preseason we heard rumors spreading of returning veteran players, but as with all preseasons it's never easy to sort the fake from reality. Then once I learned we wouldn't be participating in the cast interviews due to time limitations I knew we'd be seeing familiar faces.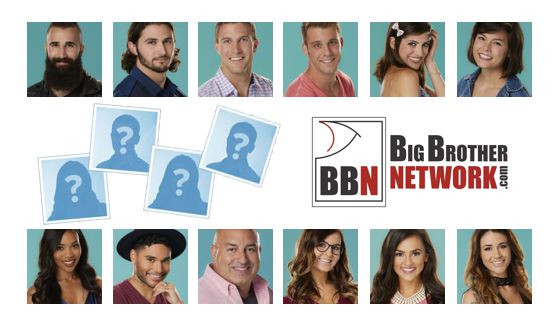 CBS has only granted us preseason access to their new HGs in recent seasons meaning a shorter reveal was likely on its way and sure enough that was the case. Now with only twelve Houseguests named during the BB18 cast reveal on Tuesday we're getting flashbacks of BB14's season which featured twelve new HGs and four returning players. So who are those veterans back for another go?
There have been two competing lists, each with four names, but as of now one set of rumors appears more likely of the two though that doesn't mean anything is official or that these are more than rumors. I repeat: these names are not confirmed and are not from sources of our own.
Last week we took at a look at Reality Blurred's report that Derrick, Vanessa, Audrey, and Ian were back for another round of Big Brother. Initially this list raised so many red flags it seemed impossible, then things got mysterious and had potential only then to completely fall apart.
To RB's credit, while the list of returning HGs appears to be wrong, the two names of sibling HGs was correctly reported ahead of the cast reveal. Paulie Calafiore and Tiffany Rousso were openly expected to be on Big Brother 18 as apparently poorly guarded secrets.
So if those names are out then what about the other list? BBCAN's Jordan Parhar has shared a different list of names that included BB17's James Huling, BB16's Nicole Franzel, BB17's Da'Vonne Rogers, and BB14's Frank Eudy.
Now that would be a really fun batch of Houseguests returning to the game, but whether or not it's them we still don't know just what they'll be doing. With just four names they could be doing another Coaches twist where each plays captain to a team of three. Or maybe it'll be more like BB13 where it's just a mix of old and new battling it out to win Big Brother 18.
Another possibility could even be some sort of viewer vote on picking which veteran players return to the game, but with HGs expected to move in tonight they'd be at it for a full week before that vote might even take place. That could be tough time-wise to pull off.
However it turns out I don't like it. Sorry, but putting an uneven mix like this is a recipe for disaster. If things had been even then that's a game, but if they're playing against each other then it's a lopsided distraction. BB13's hero worship of Vets lead to too many poor decisions and handed the game over.
We're still a week out from the Big Brother 18 premiere on Wednesday, June 22nd at 8PM on CBS so don't expect too many details on the twist or confirmation on who the missing four players will be this season. We might not know anything for certain until the two-night premiere event, but don't let that stop you from speculating and sharing your opinions below. What do you think of all this?
We'll keep watching for more Big Brother spoilers so download our Big Brother App, join us on Facebook & Twitter, then get our Email Updates for a total Big Brother overload this summer!