We settled in for one very wild ride during last night's Big Brother 17 special eviction episode as the Final 5 face the Power of Veto, an elimination, and another HoH competition played out with spectacular drama in a fast-forward round of Big Brother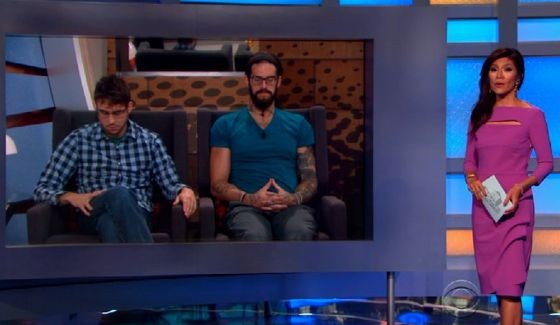 When things left off on Sunday we had just seen Vanessa send John and Steve to the Block, but with Veto looming nearby anything could happen and the week's target could shift dramatically. By the end of this show we'll have one less Houseguest and be on our way to another eviction show on Wednesday.
This wasn't a live show, but we still got a lot of important events to watch leading up to the first eviction of this week's double elimination round. The second eviction arrives during Wednesday's live eviction show starting at 8/7c.
Announced during the show, America's Favorite Player poll is now open! Vote here to award $25K to your fav.
Big Brother 17 Week 12 Veto Competition:
This challenge required the HGs to run across a beam to work on a magnetic puzzle on one side and the 20 second timer on the other side.
Johnny Mac wins the Veto!
Big Brother 17 Week 12 Veto Ceremony:
John saves himself, Vanessa names Austin as the renom
Now John will decide to evict Steve or let things go to a tie. In the case of a tie the choice goes to Vanessa: evict Steve or Austin.
Big Brother 17 Week 12 Eviction Votes:
Liz votes to evict Steve
John votes to evict Austin
Tie!
Vanessa breaks the tie against Austin! Just as I explained would happen here yesterday.
Liz is shocked & Austin is pissed. Really, really pissed. Austin tells Julie that no one in Jury will vote for Vanessa.
Big Brother 17 Week 12.5 HoH Competition – "What The Bleep?":
Houseguests have to guess True/False on words provided by Julie to fill in the blanks for things the evicted HGs have said. It's pretty silly and there's even a "camping" reference mixed in which is an inside joke for the Feed watchers.
Round 1: All get a point
Round 2: All get a point
Round 3: Steve gets a point
Round 4: All get a point
Round 5: John gets a point
Round 6: No one gets a point
Round 7: John & Steve get a point
Tie-breaker: Steve wins after John goes over!
Congrats to Steve, the new HoH!
Now we await the Feeds return to find out who won the Veto comp while things were on blackout. Want to know what happens as soon as it's revealed on the Feeds? Find us on Facebook, Twitter, and by Email Updates to get the latest news sent to you.
Tomorrow night (Wednesday) Big Brother returns with another eviction show at 8/7c and we'll see how HoH and the Veto comps played out before the next eviction. Can't wait for those spoilers? We'll have those results posted on our site starting at 9PM BBT.
Once tonight's episode ends on the west coast we'll be jumping back on the Live Feeds to continue watching our final days of the Big Brother season. You can get one free week of Feeds here:

BB17 wraps up on September 23, 2015 with a 90-minute season finale following the debut of Survivor 2015. One of these remaining four Houseguests will walk away with a half-million dollars.