The Big Brother 17 Live Feeds finally returned Tuesday night after the long outage, and it didn't take very long to find out who Steve nominated and who won the final Power of Veto.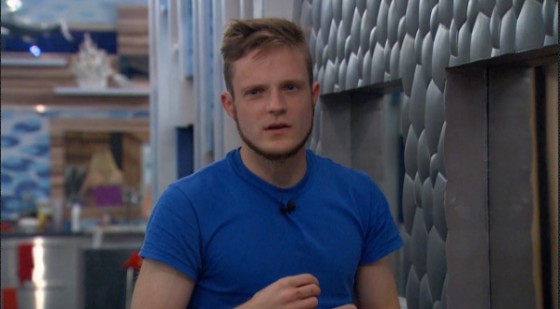 So now the question is who will join Steve and the veto winner in the final three. We'll find out tonight on the live episode, but read on to find out any possible plans ahead of the episode.
Big Brother 17 Live Feed Highlights – Tuesday, September 15, 2015:
9:00 PM BBT – Feeds return after 36+ hours of downtime.

9:05 PM BBT – Liz, Steve, and Vanessa hanging around in the kitchen. The tiny table has arrived.

9:08 PM BBT – John finally spotted and comes back to join HGs for slingband.

9:29 PM BBT – Vanessa returns from a nap and asks if she has to give a speech tomorrow. Yep, Vanessa won the Power of Veto this round.

9:30 PM BBT – Houseguests discussing how the Veto will work. It's revealed that Steve nominated Vanessa and John, but Vanessa will obviously use the Veto making the final noms Liz and John at tomorrow's show.

10:04 PM BBT – Vanessa says she'd come back and play Big Brother again. Steve says he's done and wouldn't return.

10:08 PM BBT – Steve and Vanessa start discussing who Vanessa should evict: Liz or John. It's a long talk as they debate who is better to keep.

10:13 PM BBT – Vanessa warns that John would be harder to beat in the first two rounds of the F3 HoH. (Bye, John.) On the other hand, Vanessa says that it would be tempting to take John to then end because he wouldn't win the jury vote.

10:25 PM BBT – Vanessa insists to Steve that she can't win, but is happy to get second against him. She promises that she "honestly" doesn't think she can win.

10:37 PM BBT – Vanessa and Steve are making fun of John and Liz not knowing things about the game. Steve earlier said they're at the end of the game with "two recruits."

10:38 PM BBT – Johnny Mac comes into the room with Steve and Vanessa to floss.

11:00 PM BBT – Steve and Liz talking about past HGs coming back to host competitions. They talk about meeting Caleb. Sounds like he hosted the veto competition.

11:03 PM BBT – Liz talks about Victoria from last season not being pretty. She says she just cakes on makeup like Jackie does. Steve says he thinks Jackie is pretty.

11:04 PM BBT  – Steve asks Liz what she wants to get out this experience. She says her goal is not to be on TV. She says if she wins any money, she wants to open a business with Julia.

11:08 PM BBT – Liz and Steve are just having a general conversation, Vanessa is in the diary room and John is in bed.

11:25 PM BBT – Steve is talking to himself in the HoH room. He questions if he should take Liz to the Final 2 if he wins the last HoH competition.

11:30 PM BBT – Steve, still talking alone, thinks John would take him over Vanessa if he was still in the game. He's feeling confident that Vanessa will evict John no matter how he might try to sway her.

11:50 PM BBT – John and Steve talk. John says he doesn't know what Vanessa will do. Steve wonders if she should campaign, but John is against that.

12:10 AM BBT – Steve is crying in the HoH room. He says he made a $500,000 mistake today when he let Vanessa talk him in to throwing the Veto comp. (Oh, Steve.) Steve admits he should have won it and used it on John to get Vanessa evicted. Steve is crying and saying he can not beat Vanessa at F2. He apologizes to his mom and says he chickened out on sending Vanessa to Jury.

12:20 AM BBT – Steve debates ideas on getting Vanessa to evict Liz. He believes if John does go to Jury then he'd campaign for him to win.

12:30 AM BBT – Steve goes downstairs and is crying to Liz. She comforts Steve and gives him encouragement. Vanessa comes in and tells Steve to go to bed.

12:45 AM BBT – HGs are back in bed, but though doesn't stay there for long. Big day ahead.
If Vanessa talked her way in to winning this F4 Veto and securing herself a spot in the F3 then Steve has no one else to blame for this. He knows it too. We'll have to wait and see when the Veto comp airs tonight. Right now though, things look very bad for John.
You can watch all of these Big Brother events using the archives Flashback, the DVR-like feature of this year's Live Feeds which means it's always live, even when you missed it! Sign-up now to get the free trial to watch it all live & uncensored.
click images to see full-size