Last night on Big Brother 17 another Houseguest was eliminated and sent to the Jury House followed by four surviving players battling it out for control while the outgoing Head of Household watched from the sideline as his fate could be decided.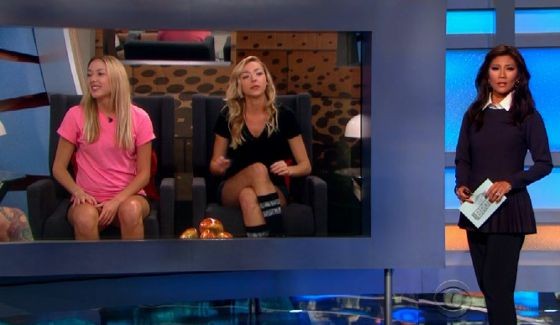 The Twins Twist wraps up this week with Julia and Liz Nolan remaining as this round's final nominees vying for the majority of three votes to stay. But as this pair of noms is no normal situation, neither was their campaigning. Both sisters petitioned for the other to stay, but the decision came down to which of them had the better shot of winning her way to the end. We'll soon see if they made the right choice.
Ready to find out who goes to Jury and who takes control next? Stick with us for our live recap right now for the latest BB17 results. You can find us on Facebook, Twitter, and by Email Updates.
There's been some interesting angles presented by CBS tonight like them suggesting this week's eviction was decided by Vanessa. Not at all. She's rolling with the punches this week but it definitely wasn't her pick to get Liz out over Julia. But on the plus side the HGs all got video messages from home during tonight's live show.
Only three votes this week as Austin, John, and Vanessa go inside the Diary Room and cast their vote against either Liz or Julia.
Big Brother 17 Week 11 Votes:
Austin votes to evict Julia
Vanessa votes to evict Julia
That's enough votes.
John votes to evict Julia
Julia Nolan was evicted 3-0, as expected. She's off to join the Jury.
Steve will have to sit out this competition and hope for a win from John or maybe Vanessa for his first chance at safety. Having eventually targeted all three of the Austwins there's little chance that he won't be their top pick if they regain power this week.
Big Brother 17 Week 12 HoH Competition – "Under The Rainbow":
HGs must work 10 eggs through the chicken wire to the other side. This could take awhile.
Yes! You can watch this right now on the Live Feeds.
We have the results ofwho won HoH comp tonight.
Once tonight's episode ends we'll be jumping back on the Live Feeds to continue watching our final weeks of the Big Brother season. You can jump on now and get one free week of Feeds.

BB17 wraps up on September 23, 2015 with a 90-minute season finale following the debut of Survivor 2015. One of these remaining five Houseguests will walk away with a half-million dollars.