Big Brother 17 schedule has been set for the final few weeks of the season as CBS will have to shift things just a little for the NFL season with Thursday night football.
Update: Since this discussion has risen back to the top today I thought I'd get this revived with the impact this adjusted schedule will have on the Live Feeds.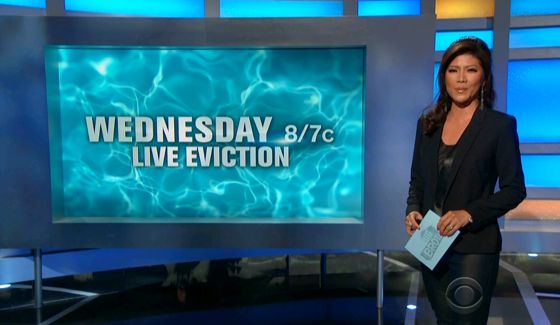 We are just over three weeks from the Big Brother season finale on Wednesday, September 23rd when we'll find out who will win Big Brother 17. That leaves just a few more rounds of evictions and episodes. Here's when they'll be happening.
Tonight we'll get our F5 HGs and then on Monday the Feeds will cut so they can film the next eviction to air on Tuesday night for a special broadcast. The Feeds are likely to stay out until after Tuesday's show which won't be live, but they may act like it. From there the Feeds should keep rolling until early the following week when they'll go down for the season.
Big Brother 17 – Schedule of Final Weeks:
9/2 – Wednesday 8/7c
9/3 – Thursday 9/8c – Double Eviction
9/6 – Sunday 8/7c
9/9 – Wednesday 8/7c
9/10 – Thursday 9/8c – Live F6 Eviction
9/13 – Sunday 8/7c
9/14 – Monday TBD – Feeds go down to tape eviction
9/15 – Tuesday 8/7c – F5 Eviction episode
9/15 – Tuesday TBD – Feeds return
9/16 – Wednesday 8/7c – Special Live F4 Eviction
9/17 – No episode – Thursday night NFL
9/20 – Sunday 8/7c
9/23 – Wednesday 9:30/8:30c – Season Finale, 90 minutes
There's really only one week of schedule juggling there in the week before finale when we lose a Thursday show and gain an episode on Tuesday. That Tuesday will be typical Wednesday content plus the special eviction to keep us on track while Thursday's eviction shifts to Wednesday, Sept. 16th.
Eight HGs remain at the moment but two more will be sent home during Thursday night's Double Eviction. From there it'll be a quick run to the big finale show where one of these Houseguests will collect the $500,000 check. Who is it going to be?
Source: @BBGossip