Last night on Big Brother the next Head of Household was crowned and with just five players left it in the game it was a critical competition to decide which side would take control of this week's targeting.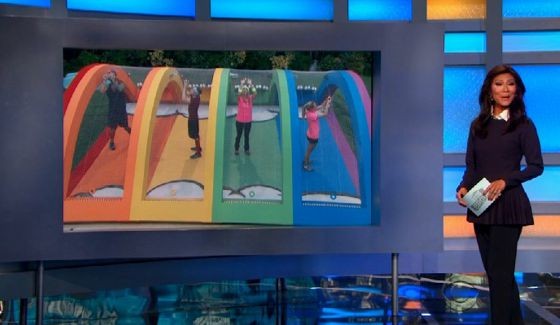 Thing are about to get sped up though with a shortened sequence of events thanks to CBS moving up the BB17 schedule due to NFL next Thursday night. Get ready to adjust your schedule for next week to Tuesday and Wednesday with no episode next Thursday.
Another Endurance Comp rocked the Big Brother house and we covered it all in our updates below.
Big Brother 17 Week 12 HoH Competition:
7:00 PM BBT – Feeds return with Austin in the lead.
7:07 PM BBT – Vanessa has two & Liz just got her first.
7:10 PM BBT – Vanessa, John, & Austin tied with 3 eggs.
7:11 PM BBT – Vanessa gets a 4th egg & Liz gets her 2nd.
7:13 PM BBT – John gets 4th egg, but Vanessa still leads.
7:15 PM BBT – Vanessa gets her 5th egg. Halfway mark.
7:16 PM BBT – Austin gets his 4th egg. Liz should quit.
7:19 PM BBT – Vanessa gets 6th egg. This is hers to lose.
7:24 PM BBT – Vanessa working on #8 when she drops & restarts on it.
7:25 PM BBT – John starts on #8. He's right behind Vanessa.
7:30 PM BBT – Liz snagged the Luxury prize egg along the way.
7:31 PM BBT – John and Vanessa are soo close. Van has slight lead.
7:35 PM BBT – John must have dropped & is working on #9 again.
7:37 PM BBT – Vanessa gets her 10th egg & wins HoH.
Just minutes after the Feeds returned Vanessa was already in full-blast crazy mode and hasn't stopped yet. She's nuts, but at least we get the entertainment of it!
Be sure to join us on Facebook, Twitter, & by Email Updates so you get all the latest news. Keep watching your Live Feeds to find out who could be going up on the block. Are you excited with the Head of Household this week? Share your thoughts!


Nominations will be announced on Friday afternoon then Veto competition will be held on Saturday before we get anymore certainty as to who will be evicted this round. The HoH is safe this week of course, but this round we'll have just two votes and that could require a tie-breaker.