Last night on Big Brother 17 the vote arrived for Shelli Poole and Clay Honeycutt as a very exciting week of Big Brother was about to draw to a close for this divided house.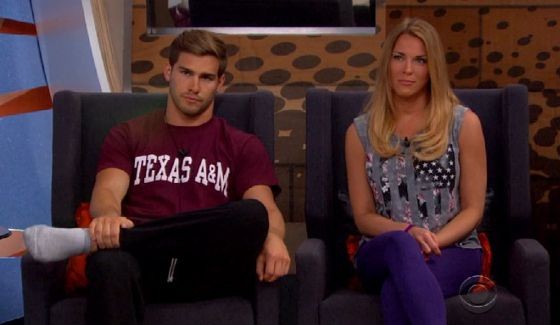 Nine Houseguests were voting and what looked like it could be a close vote ended up unanimous after a fight earlier in the day. Once the vote was over Houseguests prepared themselves to find out who won the next HoH in another Endurance Comp.
Remember the twins entered the game and the Battle of the Block is over, effectively resetting the season to a normal run of events. After tonight just eleven Houseguests will remain and we've just arrived at the halfway point of the season. That should be lots of crash course fun ahead of us.
All week the Houseguests had been debating a very important vote and between the Chelli showmance that's about to end. Would Vanessa get to keep her key ally in Shelli or would HoH James get a parting gift with Shelli's eviction.
Join us on Facebook, Twitter, and by Email for our updates and keep this page refreshed as we live recap tonight's eviction episode of Big Brother 17.
Big Brother 17 Week 6 Votes:
Vanessa votes to evict: Clay
Meg votes to evict: Clay
Austin votes to evict: Clay
Jackie votes to evict: Clay
Liz votes to evict: Clay
That's enough votes.
Julia votes to evict: Clay
Steve votes to evict: Clay
Becky votes to evict: Clay
John votes to evict: Clay
Clay Honeycutt has been evicted from Big Brother. Julie asks him if he loves Shelli and about quitting.
Once the eviction is over the Houseguests have to head outside for the next HoH comp where production has been building since Wednesday morning. CBS has confirmed this will be another endurance competition. Yes, two in a row. You will only be able to watch this online on Live Feeds!
Big Brother 17 Week 7 Head of Household Comp – "Midway Mayhem":
HGs must fill a bucket with liquid across a slippery lane. They can pick from either the HoH prize, $5K, or a Never-Have-Not pass.


When tonight's episode ends we'll be racing back to the Big Brother Feeds to watch the live fallout from the HoH comp. Join us on there with the Feeds' Free Trial & see what the fuss is all about.