Last night on Big Brother we found out who went home and who moved up to take control as the new Head of Household competitions were held. We could be in for an exciting shake up on Big Brother 17!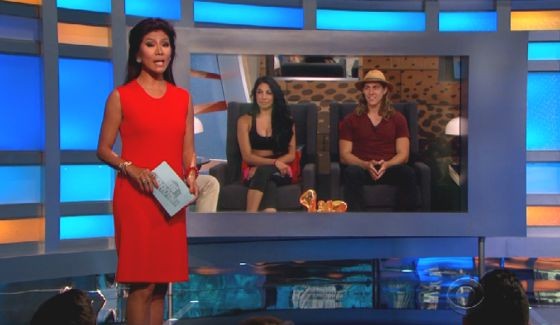 Jace Agolli faced off against Jackie Ibarra for the votes from their fellow Houseguests with thirteen decisions to be made. Once the vote was revealed we were down our first Houseguest and are ready to move on to more exciting events.
Kathy Griffin arrived on the Big Brother 17 set and I was expecting Zingbot to follow after seeing multiple reminder appearances by the ZB this week. Seems early, but who knows with this BB Takeover Twist that is going to keep us guessing each week.
Julie confirmed we'll get the eviction, Twins Twist reveal, and 2 new HoHs all crammed in tonight.
The Big Brother Twin twist has been revealed. Yep, just like we told you on opening night, it's Liz Nolan and her sister Julia. No kidding.
Join us on Facebook, Twitter, and by Email for our updates and keep this page refreshed as we live recap tonight's eviction episode of Big Brother 17.
Big Brother 17 Week 1 Votes:
Jeff votes to evict: Jace
Da'Vonne votes to evict: Jace
Jason votes to evict: Jace
Audrey votes to evict: Jackie
Steve votes to evict: Jace
Julia/Liz votes to evict: Jace
Austin votes to evict: Jace
Meg votes to evict: Jace
That's it. Jace has been evicted.
John votes to evict: Jace
Clay votes to evict: Jace
Becky votes to evict: Jace
Shelli votes to evict: Jace
Vanessa votes to evict: Jace
Jace Agolli was evicted 12-1 tonight from the Big Brother house.
Jace takes the news very well and hugs are all around. He heads outside where Julie reveals who gave him the sole vote along with the Twin Twist. He's shocked. So yeah, Jace is not eligible to return.
click images to see full-size views
Once we get through the eviction vote it's time to crown two new HoHs. Earlier today the HGs drew numbers which they believe will be used to pair or order them for the two separate comps, possibly in lieu of a gender divided arrangement. Also, the HGs were given sneakers and told to wear athletic gear so get running for some fun!


But first, Kathy Griffin arrives to explain her BB Takeover. A phone will appear & Kathy will call in to the house. The 7th call will give the receiver a special prize: safety votes nullified for 3 players. Yikes.
Big Brother 17 Week 2 Head of Household Comp – "Ginger Fever":
Houseguests must pick up pieces of a puzzle and assemble it on the other side. First to finish is the first HoH. Second half of the HGs compete next.
HoH 1: Becky wins! She beat out Steve & Vanessa who had an early lead.
HoH 2: Shelli wins the second HoH!
Congrats to both Shelli & Becky on their HoH wins.
When tonight's episode ends we'll be racing back to the Big Brother Feeds to watch the live fallout from the HoH comp. Join us on there with the Feeds' Free Trial & see what the fuss is all about. Audrey knows her back is against the wall and even an HoH win won't guarantee her safety as this week's main target. Now that should make for a crazy week of action, right?