The Big Brother 17 Feeds blackout continues today as the remaining Final Four Houseguest are preparing for their next competition and tomorrow's live eviction.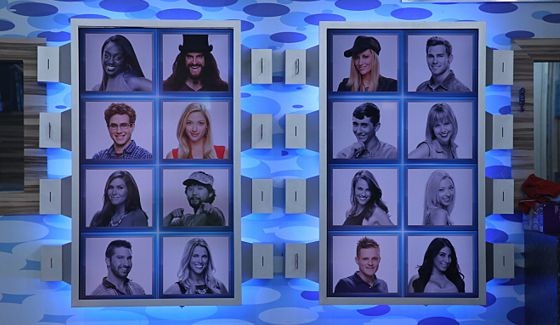 Yes, only four players remain in the season. Can you believe it? We're down to the last eight days of the BB17 summer and someone is about to win a half-million dollars, but it sure won't be the Houseguest who left last night.
There are still no reliable spoilers since the Feeds went down, so we don't know for sure whether Steve Moses or Austin Matelson was cut from the game, but I'm sticking with my previous projection of the Liztin showmance coming to an end. We do however know what to expect as far as progress from inside the house once things are back up and running.
Following the "surprise" eviction which wasn't really a surprise for the Houseguests, the eligible three players competed for HoH with Vanessa watching from the sideline. We've seen these set up in the past as a divided circle with the three players stepping back and forth for true/false or before/after type answers. I wouldn't be surprised to see a repeat of that sort of competition in tonight's show. (Yes, there's a show Tuesday night at 8/7c. It's not live, but you definitely want to watch it.)
Once we have a new HoH the nominations will need to be held but keep in mind these will be inconsequential other than finding out who is HoH because they've just guaranteed themselves a spot in the F3. The real decision maker this round is the Veto.
All four players are likely currently preparing for the Power of Veto competition later today in the house. That comp will not be part of tonight's show, but once Feeds return at 9PM PT we will quickly gather details on who won Veto and what that could mean for the decision ahead.
The Veto holder will be casting the sole eviction vote this week unless the HoH also won the PoV. In that case the HoH would be deciding who to cast the vote in his or her stead. But now we're getting ahead of ourselves. The Veto Ceremony won't happen until Wednesday's live eviction show (8/7c) and we'll be able to discuss plenty more on those expectations once we get tonight's results from the show and the return of the Live Feeds.
As for the chance of Feed leaks, it happened last year for about five minutes just before noon BBT so let's keep our fingers crossed. When that happened we knew for sure FG had been evicted and Derrick was HoH. The HGs were then preparing to compete for Veto. I'm extremely anxious to find out the latest results, but it might not happen again this year. We'll keep watching and alert you to any developments. Find us on Facebook, Twitter, and our Email Updates to get any news.
While we wait, be sure to cast your vote for who you think was evicted last night and who is your favorite HG this week. Share your thoughts and let's get ready for tonight.