We're flying in the dark here on Big Brother 17 as the Feeds are down for a 36-hour blackout, but we're not going to let that stop us from counting the votes and taking an early guess at the eviction.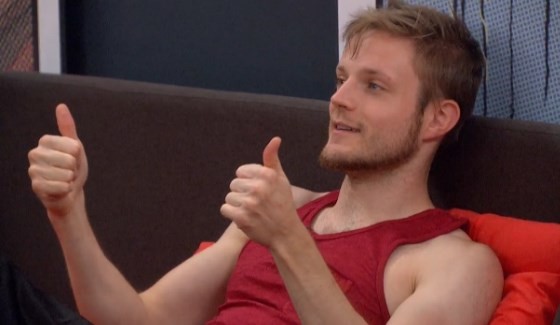 Yes, even the Houseguests know they're about to face an eviction and they've been working hard to prepare for those two votes to come on in to the Diary Room and make this week's choice. Or maybe even better, for our entertainment factor, they'll force a public decision and tie-breaker vote.
Austin and Steve are on the Block and Vanessa is the sitting HoH which leaves only John and Liz for voting. If you had asked me on Saturday night how the vote would go I'd have a much different answer for you than what I'm seeing now.
On Saturday night John went to Austin and told him he was ready to "do bad things" and that entailed turning on Steve, voting him out, and working with Liz and Austin to target Vanessa next. Yikes. That seemed crazy to go to the end with a showmance, but heck, Vanessa had been marching right along most of this season doing just that.
Then on Sunday that view changed when John revealed his plan. John explained to Steve that he needed Steve to convince Vanessa to try and convince John to keep Steve. Is your head spinning yet? John said if he proposed the idea to Vanessa to keep Steve then she'd think they were still working together and automatically vote Steve out in the tie-breaker. This way she thinks it's her idea and he's just going along with it.
Whether or not it works, I think this was a very interesting strategy. John may have been prepared to vote Steve out and roll with the punches if he couldn't get Vanessa to come to him. He set things up to shift to Austin and Liz for a makeshift partnership against Vanessa as a plan B and then win his way out. Now that's dedication to a strategy. It might be reckless, as we've seen from John, but it's not stupid.
Sure enough, last night Vanessa came to John with a plea to vote to evict Austin so the vote would split and she'd break it in Steve's favor. Or at least that's what she's proposing. Now is it possible that she did all this work to deceive John in to keeping Steve just so she could then flip it back and vote Steve out? Well sure, she could, but why would she go through all that?
I've been saying for awhile that Vanessa's game moves have often been "unnecessary" and flipping John just to flip the vote back would certainly fit that bill. It'd also go against the smart game move of breaking up the showmance, but don't we keep seeing Vanessa do the strangest moves over and over?
So yes, it's entirely possible that Vanessa spent days working between Steve and John just to then turn things back against Steve, but I really don't think she will. By voting out Austin at this point she gets to keep Liz for herself. Liz might not like it, but the closest thing she'll have to an ally at that point would be Vanessa, not John or Steve.
Vanessa is also likely to believe she's still got Steve in her pocket as another ally that's closer to her than Liz or John, especially after John fronted that he was ready to dismiss Steve in this vote. This again positions Vanessa down the middle of the house as she did so well to arrange most of the season. Only this time I don't think she has Steve quite as deep in her pocket as she might think.
As for Liz? There's zero chance she's voting against Austin. Steve said he knew it'd be rude to ask, but worried it'd be just as rude to not ask. So he did. It's not happening, Liz explained. Done and done.
My vote prediction stands at 1-1 with Vanessa breaking the tie in Steve's favor and Austin walking out the door. What do you think will happen? We'll listen for spoilers and watch for Feeds a repeat of brief leaks like we got last year, but in the meantime we can keep discussing scenarios until the Feeds return after Tuesday's special eviction episode.