Since Sunday night Audrey Middleton has been slowly withdrawing herself from Big Brother 17 in preparation of her seemingly inevitable eviction later this week. So what's been going with Audrey?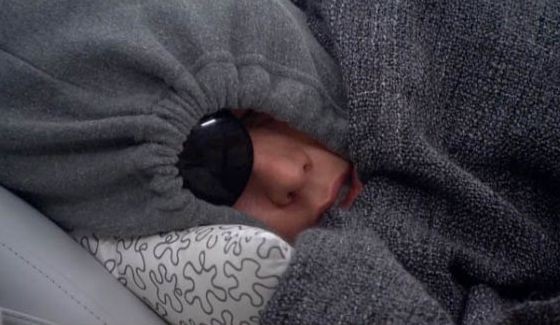 Update: Get the latest on Audrey's behavior inside the Big Brother house.
Audrey has not quit Big Brother. Twice now there's been speculation that her vanishing acts in to the Diary Room would result in her permanent disappearance, but as of now she is inside the BB17 house and avoiding the other Houseguests.
Starting back on Sunday near midnight the Houseguests noticed Audrey had gone missing which meant she had to be in the DR. After a few hours she returned to the house and went back to bed. It wasn't until Monday the real activity arrived.
The Veto Ceremony is typically held late morning or early afternoon but this week things got held up. A lot. Just before the expected arrival of the meeting Audrey went to the DR where she remained for between five and six hours. Feedsters were able to confirm when another HG left the DR to determine the most likely time she entered, but it's not exact.
Houseguests had gathered in the living room for the PoV meeting but after much delay and a brief appearance of Fish, typically used to cover production talking to the HGs, they all dispersed as though told it wouldn't be happening for awhile. The HGs were left wondering if Audrey had quit the game.
At 3:51PM BBT (Flashback on your Live Feeds) Audrey emerged from the Diary Room and made a beeline for the Have-Not room. I do not know what she was carrying in the brown paper bag when she returned. Vanessa brought her Advil and water but was Audrey told her production already gave her something in there. Feeds cut away and soon the Veto Meeting was held, minus one Houseguest.