Later today the Power of Veto Ceremony will arrive and we'll have our final nominees for the week, but is there any drama to expect in a potential renom?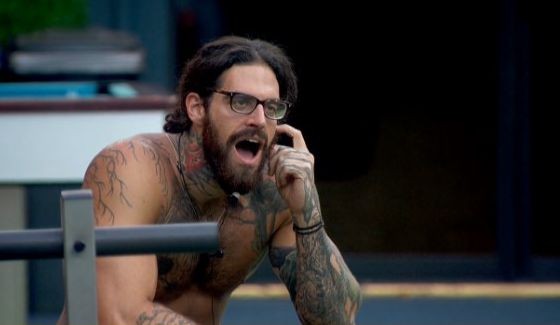 Since the Veto comp results were revealed it was assured of one player who couldn't go up on the Block, but I think we all knew that particular target wasn't going to be up for discussion this week. So what's the latest for today's meeting?
Vanessa ran through the house yesterday looking for a way to shift Austin's plans to targeting one of the Goblins. After an early Sunday talk with JMac she seemed swayed that she could use him down the road. From there she campaigned to the Austwins on John's behalf, not vigorously, but she did relay to the Austwins new information supportive of John.
Then Vanessa took to looking for a way to justify using the Veto and getting either James or Meg up the block. She seemed to vacillate between James and Meg as the renom options and would switch when there was too much push back on either idea. I'm not sure if she really wanted one of the other initially and was using reverse psychology, but later in the day she seemed to be pressing more for James to go up.
Vanessa went to John looking for anything she could use to get James up on the Block. Eventually she started working with what John told her that James offered to throw the HoH to him, but James fervently denied this as much as John stuck to his claim. Eventually Vanessa relented that both seemed to be telling the truth and there may have been a communication issue.
Through all of this Austin remained unswayed. He told the twins that he did not want to change the nominations and didn't want Vanessa to use the Veto. They seemed to humor Vanessa's theories and let her run herself to exhaustion while having already made the decision.
Later in the night Steve made a comment to James and Meg about Vanessa plus the Austwins being a "strong fortress" and that soon worked its way back to the Austwins. However by the time Meg told them she left out Vanessa. Now maybe the Goblins thought they were in trouble and this move was necessary, but its result likely did not change the Veto plans though it could impact the eviction.
When the Veto meeting arrives in a few hours we can expect Vanessa to not use the PoV leaving John and Steve on the Block as this week's final nominees.
Do you think they're making the right choice? Should Austin have gone for James or Meg this week instead? We'll have spoilers and results posted here, Facebook, & Twitter.
Update: John told Vanessa about the 5-HG deal with Austwins, him, and Steve that was intended to target Vanessa. She's furious, confronts Liz then Steve. Liz is furious in return but at JMac for announcing this. She wants him out. Vanessa wants Steve out.
Bottom line is the Veto won't be used for sure now. Meeting underway as of 11:15AM BBT. Results soon.