Later today in the Big Brother house this week's nominees will sit before the other Houseguests and plead their case to come down off the Block. The Veto holder is ready though and the choice has already been made.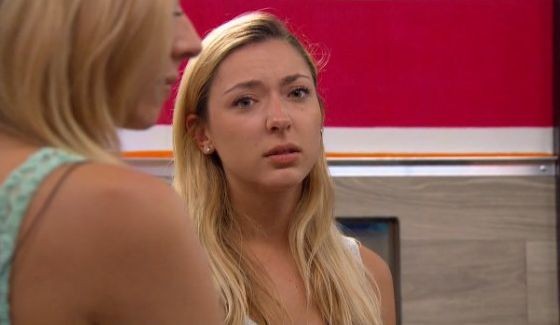 There have been debates over the weekend since Saturday's Veto competition and while there has been some wavering and contemplation things are set to go as planned during Monday afternoon's Ceremony.
Liz holds all the power this week as both the Head of Household and the Veto winner. The PoV came down to her and Austin during the OTEV comp and I'd guess he let her take it to keep the pressure off him and make it easier on everyone to just say these were her choices and they'll stay her choices.
Yesterday afternoon Becky came to Liz to ask if the noms were "frozen." Liz confirmed and said both Becky and John would stay up on the Block. Becky is nervous that the pawn title could trade hands, but Liz promises her security. Remember last week when Becky gave Shelli those same assurances?
John has been similarly promised that he won't be going anywhere this week either, but that's actually true to their current plans. Of course Thursday night is still over three days away and we've seen a lot change in a short time this season on Big Brother 17.
The only change, if there was one, would be for Vanessa to become the renom. Liz has flirted with the idea but Austin has firmly pushed back against it. Things may have gotten even closer last night when Vanessa started to freak out that she was in fact about to be renom'd.
Flashback to 7:55 PM BBT 8/16 as Vanessa gets all worked up and tells Steve she thinks she'll be put on the Block on Monday. She doesn't trust Steve's assurances because he held back the same info from her last week. When Liz spots Vanessa having this freak out she briefly contemplates pulling the trigger this week. Julia and Austin agree that it's not the best choice here since they'd then have two opponents, John and Becky, staying this week.
Interesting side comment from Austin came after Liz left the room and went downstairs to try and calm Vanessa. Austin told Julia that if he was HoH this week then he'd go ahead and BD Vanessa himself. Consider he has a great deal of influence on Liz and could make that happen but has in fact guided her in the opposite direction is curious to me.
It's almost like Austin wants to be the one to get her out himself. We know he hasn't forgiven Vanessa for that near miss BD early in the season and this could be a slow boil plan, but the clock is ticking and opportunities are fleeting in the Big Brother house.
We'll watch out for the official results later this afternoon for this week's Power of Veto Ceremony spoilers, but for now we should expect Liz to pass on using the Veto and this week's final noms to remain as Becky Burgess and John McGuire.