The Power of Veto Ceremony could be coming early with a Sunday arrival or sticking to its normal routine on Monday, but with the "surprise" eviction being taped on Monday it'd be best if we got ahead of the curve to take a look at this week's Veto decision.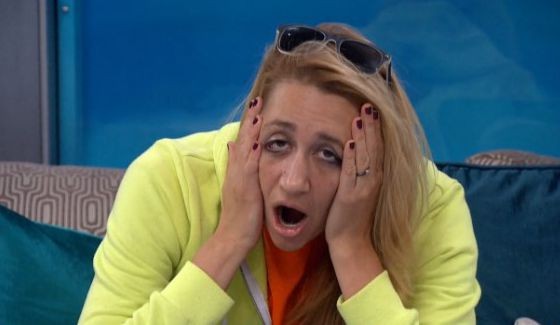 Veto was played out on Saturday with dramatic results that left the House scrambling to recover and pick a new course of action. After a long night of talks and debates between Vanessa and her candy committee there may be a plan.
John has the Veto now which we all know he will definitely use to save himself from the Block. There is no chance he'll decline to use it. This will force a renom from Vanessa and she'll have to pick from two allies.
Yes, this makes it four for four HoH's that Vanessa has had to select a renom after every time one of her nominees has won the Veto and used it to remove themselves from the Block. No wonder she speaks of so much "blood on my hands."
Vanessa has to decide whether or not to nominate Austin or Liz and she spent over an hour last night sorting M&Ms and Skittles looking for her best scenario to move on to the end. Then talking with Steve it sounded like she was being pushed to put Austin up before also having talks about using Liz. We heard loops of these same sort of talks with the other HGs too.
In a talk with Austin, Vanessa suggested she didn't want to put up Liz since what she was suggesting was either nom would just be a pawn against Steve. Austin agreed that he could go up, but later worried what if Vanessa was letting him volunteer then would actually target him. It might not be up to her.
John spoke with Austin and told him he was ready to "do bad things" and that looks to include going against his former Rockstar ally, Steve. No matter who goes up, Austin or Liz, if John decides to work with the other then those two can vote against Steve and send him to Jury.
If Vanessa wants to avoid Steve going then she'll need to decide whether it'll be more tempting for John to vote against Austin or Liz. A split vote would then let her cast the tie-breaker and choose whether or not she wants to keep her F2 deal with Steve.
This morning Steve spoke with Vanessa and asked if she had made a decision. Vanessa confirmed she had, but didn't specify. A few minutes later she warned Steve that he needed to work on John to make sure he had his vote locked down and suggested John was toying with the idea of voting Steve out. Not sure how serious Steve will take that suggestion as John has in the past suggested to others that he and Steve weren't that close as part of their cover.
We'll keep watching today to see if the Veto Ceremony is held and what happens. Results spoilers as soon as there is action on that front, but in the meantime, what do you hope will happen? Should Vanessa renom Austin or Liz when John comes down from the Block?
Find us on Facebook, Twitter, and by Email Updates to get updates on these spoilers and more.