With Clay Honeycutt all but evicted from Big Brother 17 at this point it's time to start looking ahead and Vanessa Rousso is ready for that. Next target on the horizon? Watch out, Johnny Mac.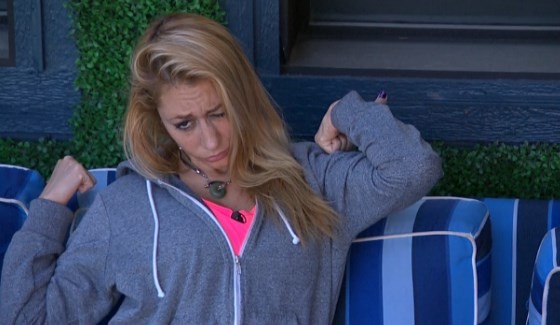 Talking with Steve Moses this morning, Vanessa shot down an idea of the two of them working with Shelli and John to form a new alliance. Why? JMac wouldn't be around much longer.
Flashback to 10:10 AM BBT as Steve updates Vanessa on his overnight talks with Shelli and Clay. Steve suggests the best thing right now could be a new subset alliance that includes the two of them plus John and whoever lasts in the Chelli duo. Steve thinks it's a great idea because Shelli and Clay both like John and John likes him. Done and done, right? No thank you, says Vanessa.
Vanessa says she's worried that alliance would be redundant and short lived since John is being targeted. Steve is surprised by this news and asks who is going after John. Well, no one, but let's not answer that question, right Vanessa? Instead Vanessa suggests there is a lot of concern over John being a floater and if he doesn't win an HoH soon he'll be out the door.
Yesterday Vanessa got Steve riled by telling him that he's considered a floater so he's sensitive to the topic when it's brought up this morning. He asks Vanessa who is seen as a floater and she gets curt with him saying she's already explained this. John, Becky, and Steve are seen as floaters to the house, according to Vanessa who also sees Meg as a floater, but admits no one else agrees with her.
Jump forward a few minutes to 10:16 AM BBT. Vanessa starts to set up the rumor that John and Clay are brothers or cousins. Steve tells her about Project DNA and how that worked. Vanessa continues saying there's a strong bond between Clay and John, stronger than one between Shelli and John. She says Clay volunteered to go up last week to protect JMac which she thinks is strange.
Steve questions the idea saying they're hiding it well if related. He mentions they don't have the same accent. "They live in different states, obviously," explains Vanessa. Ahh yes. Obviously.
Perhaps sensing she could extend this rumor out another week since Clay is already on his way out the door, Vanessa adds that John and Meg might be related too. Good grief. Yes, she's probably trying to make others paranoid, but she cries wolf so much I don't know why anyone would give weight to ridiculous ideas like this.
My suspicion here is that Vanessa is nervous about John staying behind and seeking revenge for Clay's ouster. When Steve mentioned Clay and Shelli supporting the idea of teaming up with John Vanessa wanted to know if it was Clay or Shelli who suggested it. Steve said both of them.
Vanessa knows John was crying on Saturday after Clay and Shelli lost the Power of Veto competition. Like the rest of us, she probably thought that was odd. I'm crediting it to the copious amounts of wine for the comp spectators, but she may think it's something deeper than that. Either way, John could be in trouble here and Vanessa is not an enemy you want.
There are plenty of targets for Vanessa right now, but she'll want to pick and choose. Given the chance I think she'd sooner go for Jackie or James, but this John discussion is an interesting one and could raise him on her priorities list.