Vanessa Rousso has taken over not only the role of Head of Household this week, but now she's also the unofficial matchmaker for Big Brother 17 when it comes to Austin Matelson. Or is she actually trying to hurt his game?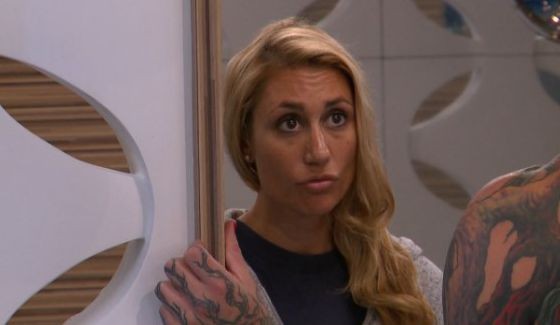 For the past several days we've watched online as Vanessa worked between Austin and his desired object of affection, Liz Nolan, to see if there was a love connection to be made. Now she's pushing even harder and taking things for an interesting turn.
Just a few days ago we saw Austin heartbroken, feeling "dirty" and "angry" to have found Liz sharing a bed with James after he asked her to sleep upstairs with him and Vanessa. Vanessa said she'd talk with Liz to find out if she liked him "in that way." Break out your middle school notebooks cause it's time to draw some hearts.
Liz confided in Vanessa that she enjoyed being around Austin, but she wasn't that in to him. This information didn't get back to Austin who snapped a bit last night after walking in to find Liz under the covers chatting and giggling with Jeff Weldon. Austin was furious and immediately went to work shoring up the votes to make sure Jeff would be evicted.
Jeff and Liz had to run away to a different room to hang out and chat a bit more where she confirmed that she didn't like Austin and said even back when Jace was around Austin would always show up as a third wheel. She then closes out their talk with a long hug & says she hopes he doesn't go this week.
Flashback on your Live Feeds to 7:50PM BBT 7/14 to find Vanessa and Austin upstairs talking over this Liz situation. Vanessa, knowing Liz isn't interested, tells Austin that not only does she think Liz is interested in him, but also her sister Julia. Good grief. Austin is very excited and goes to trim his beard so he can be ready for the kiss that Vanessa is encouraging him to go for that night. Yikes.
Jump to a few hours later at 12:55AM BBT 7/15 to get Vanessa and Steve privately sharing updates on the game. Vanessa expresses concerns over a "heating up showmance" going on between Liz and Austin. Huh? Steve is as shocked as we are.
Steve: "Are they showmancing?"
Vanessa: "Oh they're showmancing hardcore. Like it's bad for us. They're not even hiding it anymore."
Steve: "Have they kissed?"
Vanessa: "If it hasn't happened yet it's going to happen tonight or tomorrow. I'd give it 24 hours tops."
Vanessa says this really concerns her and asks what they should do about it. Steve says it's a great cover for the two of them, but agrees that it's going to draw attention.
They continue to discuss as Vanessa adds "you can't stop love!" She suggests it'll just hurt their game to try and stop it from continuing. Steve doesn't seem sure what to do. Then comes an interesting moment. Vanessa tells Steve that Julia has no interest in showmancing with Austin. Hmm, just a few hours ago she was telling Austin that Julia was interested. Oops.
So what's going on here? Vanessa knows Liz isn't interested but she continues to egg on Austin to try and force a situation that won't end well for either him or Liz. It's already not ending well for Jeff who is getting rushed out the door by a jealous Austin.
I don't see the advantage for Vanessa to be setting up who I thought were close allies to her, but maybe she's trying to make sure they're all as expendable to her as possible like that other F2 deal she made the night before.
What do you think is going on here? Is Vanessa sincere in her matchmaking or is she setting Austin up for failure and to what purpose? Discuss!
Update: Oh boy. Now more of Vanessa's plan is being revealed this morning on the Feeds. Flashback to 10:15AM BBT 7/15 as Vanessa talks with Austin. She tells Austin that Steve was "butt hurt" last night when she told him about Liz like Austin.
Vanessa says Steve told her that Liz had said she had a thing for "nerdy guys with glasses." Steve didn't say this. You can watch their convo at 12:55AM BBT. Austin worries about Steve doing something to get revenge. And there is Vanessa's plan all rolled up. Now she's got Austin worried about Steve, but not vice versa. Bye bye Steve?
When you get your competition for the girl who doesn't like you voted out. #BB17 pic.twitter.com/uBJDqVQA56

— Big Brother Network (@bigbrothernet) July 15, 2015