Last night the second round of the three part final HoH competition was held and the results made sure we'd have an interested last few days of the Big Brother 17 season.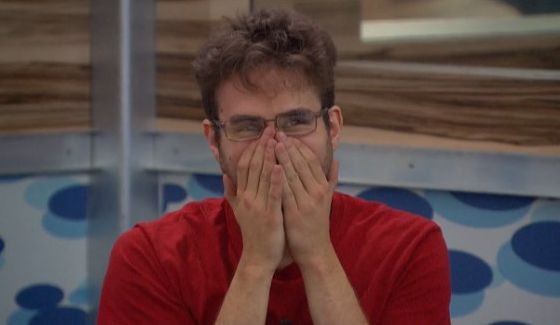 Part of that interest will be seeing how the Steve handles his deal with Vanessa and how Vanessa handles shutting down his alleged plans to tell Liz everything going on.
As soon as the Feeds returned we were watching Steve ask Vanessa if it was too soon to share the news with Liz that her chances were over. Flashback to 11:10 PM BBT 9/18 on your Live Feeds (Free Trial). While we've heard from Steve that he might not honor this deal with Vanessa he isn't letting on to her just yet.
Steve wants to know when they should tell Liz. Definitely not now, says Vanessa. It'd be better to wait, she explains. A few minutes later Vanessa again tries to fake a little happiness and excitement for Steve saying her injuries from round one are keeping her from jumping around. Even hugging is more than she can take, but she lets him hug for a moment.
Steve is elated and Vanessa can barely manage a smile for his victory. Her lack of excitement is obvious to Steve as he asks her if the medicine she's taking is impacting her reactions now. Yeah, it's that transparent.
Vanessa again tells Steve it's not the right time to tell Liz and he yields saying he trusts her judgment. She wants time to think it over and tell Liz "the way that will be most…" Steve offers "comforting," but I'm guessing Vanessa is thinking "most beneficial to her game." He references the way Derrick and Cody let Victoria know once the two of them had each won rounds one and two.
This was not how Vanessa wanted things to go down. She had helped Liz study and prepare for this competition so the two of them could go to Round 3 and lock down the F2 together. Now Vanessa has one more competition to win and if she doesn't, I do think Steve is heavily leaning toward sending Vanessa out to join the Jury. That just might be the move he needs to win over the F2 votes, otherwise I don't think he'll even get to stand before them.
Vanessa tells Steve (Flashback 11:20 PM BBT) they should wait until at least Monday to tell Liz and the later they do it the better to avoid her campaigning. There are so many red flags flying up here and while Steve acts like he isn't seeing them I do think he is and it's likely reinforcing his drive to win round three and to evict Vanessa.
Jump ahead to 12:04 AM BBT 9/19 as Steve speaks alone in the back bedroom. "I think Vanessa is on to me so I need to back the f**k off with her… [inaudible] now I can stop." So yeah, Steve knows what's up. Think he'll talk to Liz? I don't think there's any reason to do that.
It'd be great entertainment for us to see Steve try to tell Liz that he and Vanessa have been working together most of the season and have had a F2 deal the whole time. It'd directly conflict with what Vanessa has told Liz and shouldn't surprise Liz in the least. But, what's the advantage for Steve?
There's no elimination decision for Liz and it could only fire Vanessa up even more to fight to win the last round. Unless something surprising happens and Liz gets sent to Jury then she won't even have a vote should she be sitting at F2. Instead maybe we'll see Steve continue to toy with Vanessa and press her to make the reveal herself for that awkward silence and subsequent explanations.
What do you think Steve and Vanessa should do here? Will Steve get Vanessa to tell Liz only for him to go back on the F2 deal just as Vanessa was planning to do the same? We'll keep watching to see who reveals what in these last days of Big Brother 17.
As an added bonus, 11:27 PM BBT 9/18, Vanessa tells Steve he doesn't even need to worry about winning round three. Heh. Nice try, Vanessa. Steve immediately tells her he's not going to throw it. I wonder if we'll hear more of those suggestions in the coming days.