Steve Moses learned about the new plan overnight to keep Liz and you can just imagine how happy he must be about that one. Now the paranoia of an outgoing HoH reign is setting in and Steve is starting to get suspicious of the other few remaining HGs. Well, just as he probably should.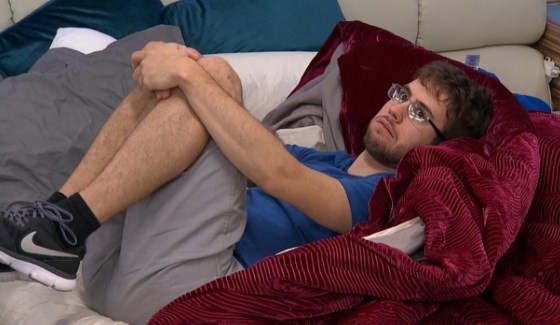 Last night Steve went to talk with Austin about this new development. Asking what he could do to stay in their good graces, Austin advised Steve to give his blessing and move along. Oh, and don't forget to join us for a meeting with JMac to discuss what to do that that other Houseguest.
Yes, Steve's turn as HoH really fell apart around him this week as his previous goal of sending Austin out the door was sunk after the Veto forced him to fall back to evicting Liz. But wait, cancel plan B. The Austwins worked Vanessa's bluff to their advantage and now Liz is staying. That gives us Plan D (I'm skipping C because there must be something else better than this) which sends Julia off to Jury and keeps Liz, a very strong competitor, and her showmance with Austin intact.
Talking with Austin last night, Flashback to 2:11 AM BBT 9/9, we heard Steve do his best to try and smooth things out with his original target. Steve promised Austin he had never worked against him without first telling him what was happening. You know Steve is sweating this situation as he's now missed both of this targets and neither are likely to be too thrilled with him.
There's a quick mention from Austin about wanting to meet with him and John later to discuss how to handle Vanessa, though she isn't named. Steve says "we all know who the threats are" and Austin won't name her either with only "I think everyone's nervous to say anything right now." It'll be interesting to see if Steve becomes too suspicious of Austin to work with him against Vanessa next week, if they get the chance.
Steve heads upstairs as Austin stays down in the bathroom to talk with Vanessa. Flashback to 2:16 AM BBT. In the HoH room Steve really starts to worry and says he's in danger next week. He believes Vanessa is safe in most situations and he's especially in trouble if it ends up being him versus Vanessa on the Block at the next eviction.
Watching on the spycam Steve sees that neither Vanessa nor Austin have left the bathroom and suspects they're still talking. "They're still talking? They're STILL talking?!" as he slams something to the ground (a Mr. Goodbar?). Steve suspects Austin is telling Vanessa the same things he told him minutes earlier. "You son of a b***h!" exclaims Steve. I'm not sure we've seen Steve this worked up before.
Back to his worries next week, Steve fears he could be a top target even over Johnny. He backtracks for a moment thinking he might survive that (I don't think so) and then fears John winning Veto and Vanessa going up (in the case of Austin or Liz winning HoH this Thursday). "If I'm on the Block next to Vanessa then I'm f**ked and I don't think there's anything I can do about it."
What do you think? Is Steve in more trouble against Vanessa or John? I would have thought Steve's chances of survival went up next week against Vanessa since John would more likely vote to keep him over Vanessa and then he'd need just one more vote from either the HoH or the other member of Liztin.
As for Liz staying instead of Julia, it's not really that I think they'd have different targets but it's a higher chance of one of them getting HoH over John, Steve's ally. Julia would be easier to beat than Liz, based on past performances. Either way though, Steve may be right that next week is looking pretty dangerous for him.