Last night on the Feeds we listened in as Steve paced the Big Brother 17 backyard and rehearsed the speech he hopes to give on finale night later this week. In it he confirmed a big decision he's ready to make.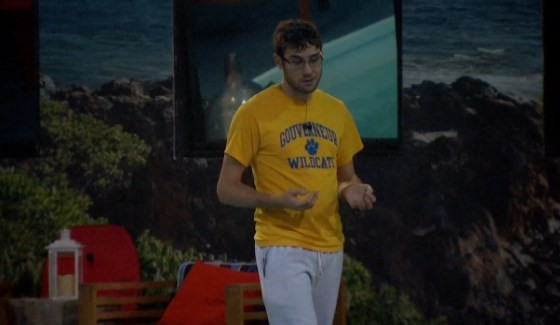 Now with the first two rounds of the final HoH complete the two players have been determined for the third and final part. That round's winner will cast the last eviction vote of the season making this a $500,000 competition. The stress should be enough to eat through steel.
Flashback to 2:05 AM BBT 9/20 to listen as Steve heads outside and begins to rehearse what he thinks could be the final eviction speech of the season and it sounds as though he's still preparing to cut his biggest threat, Vanessa.
There are many variations to this speech as Steve repeated lines over and over, but here is a mix of the lines. "Five or six weeks ago Johnny Mac told me a very simple line that at first seemed absurd to me but the more I thought about it the more it seemed true to me. Vanessa is Derrick."
"Vanessa, you have played the most brilliant game. I mean this as a student and superfan of this game. As a student of this game, you are the most brilliant female player this game has ever seen. Based on what I have seen, you just might be the single most brilliant female player that this game has ever seen."
Shifting around Steve starts to talk about last season's pair, Derrick and Cody. "We're kinda the Hitmen. That makes me Cody… Derrick won the Jury vote and Cody is the one who made the $450,000 mistake by taking Derrick to the end. I can't make the same mistake Cody made last year."
"I have no idea how you got Austin to put me and Johnny up. I have no idea, but I was amazed. I have no idea how you talked Liz in to dropping out of the first part of this HoH, but I was amazed. When James was HoH and wanted to go after revenge for Jason's eviction, I have no idea how you got him to go after Shelli and Clay instead of you. You have repeatedly amazed me with your game play. I have been trying to get you…"
Steve jumps back to his part about Vanessa being brilliant. "So if you're Derrick, and we've been in a final two all season that makes me Cody… You drove our alliance and strategy way more than I did. If I were to take you to the F2 much like when Cody took Derrick to the F2 last year, he lost because of it. I can't make the same mistake that Cody made last year. Vanessa, I'm so sorry, but I do have to vote to evict you."
Steve wanders a bit more before discussing how since BB12 the two HGs competing in round three moved on together to be the final two. He also notes that for BB10 through BB15, the winner of the final HoH competition was also the winner of the season. Last year we saw Cody win the final HoH, take Derrick, and he lost. It's good to see there is no confusion for Steve over what could happen if he won and took Vanessa on to the end. While I'm sure it'll be a very intimidating situation, I have little doubt that Steve will make his best move and evict Vanessa should he win round three.
Vanessa won't be easy to beat at the final round of questions though. She knows these Houseguests well and is a very smart player. Last year's third round had eight questions and a tie-breaker where Cody barely beat Derrick in their guess of how many seconds the first competition lasted. As for that question, Steve was quick to calculate the number on Wednesday night when they returned from the comp. Smart move as it just could be the deciding factor.
What do you think of Steve's speech? It's a long one for an eviction decision speech. Would he be better off keeping it short and sweet or is a long winded explanation better for his hopes of retaining Vanessa's vote in Jury? Now we'll just have to wait and see if he gets to share these words with her.