Overnight we watched as Steve and Johnny Mac continued their debate in to the possibility of a vote flip against the Austwins to keep Meg in what could end up a big blindside if they pull it off.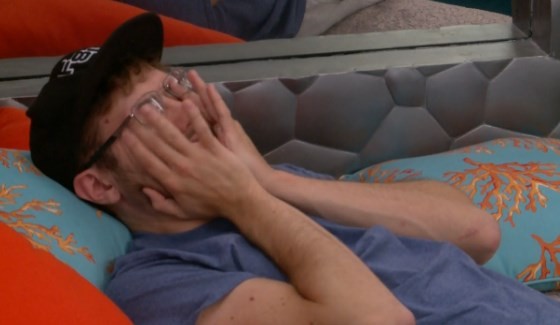 With five votes out there and James solidly supporting Meg it'd take just two votes to change the plan and send out Julia, but above that it'd take some serious betrayals and a shift in the game for John and Steve in the final weeks of the season.
Yesterday evening we saw Steve alone in the HoH room pacing and talking outloud. Flashback to 5:25 PM BBT 9/2 to hear Steve announce that he and John will flip the vote. "Scamper Squad is over," declares Steve. He says that he and John will join James to be the three votes. Soon after Steve says this Vanessa shows up and they have an hour long talk where Steve advocates for evicting Julia and Vanessa shuts it down, but will her words stick?
Move ahead to 8:28 PM BBT as John and Steve briefly discuss the opportunity. John suggests that if they keep Meg then they could work with her and James, or at least not be their top targets. Steve asks John if he wants to do it, but neither feel confident and both say it's too risky to flip and vote out Julia.
The back and forth flopping around continues when the two meet back up for another talk at 1:30 AM BBT 9/3. John and Steve are alone in the bathroom and begin their talks again. John seems much more interested in this idea than Steve as he points out this could give them a numbers advantage in what looks like it could be a game of chance.
What John's suggesting is that by eliminating Julia they'd pit 2 players, Austin and Liz, against 4 players, James, John, Meg, and Steve, in what he suspects will be a crap shoot. Steve questions if the numbers would really be any better. Well, they probably would for John since Julia, Liz, and Austin would put up James and John, I do believe.
John left and went on back to bed after agreeing they'd talk more in the morning. Steve, on the other hand, never went to sleep. He's still awake right now (8:15 AM BBT) rolling around stressing the situation. All night Steve paced and spoke to the cameras. He said he didn't want to miss this chance and lose the game by allowing the threesome of Austwins to stay together. Steve says he has to do what's best for his game, he just doesn't know what that is.
As for some of Steve's final thoughts this morning as he laid in bed restless? "I don't want to do it. I don't want to do it," said Steve to an empty room. I suspect he won't. If this was just up to John then it'd happen, but the fact that Steve has been wrestling with this for hours and hours suggests to me that he can't convince himself of the move. Soon he'll have to admit to himself that it's easier in the now for him to fold and follow Vanessa's lead. Unfortunately for him that means keeping yet another F2 HG (Julia) for Vanessa and keeping a trio that won't hesitate to cut him the moment they need.
We'll keep watching to see what'll happen in the daytime talks. You never know if the sudden realization of a Double Eviction will be the kick in the pants Steve needs. There are lots of possibilities and that'll keep tonight interesting. Be sure to read Derrick Levasseur's breakdown of tonight's DE scenarios for some great insight to the action ahead during tonight's show.
Update: Steve went to the twins this morning for promises that they wouldn't nominate or renom him. Flashback to 9:50 AM BBT. Both agreed and they shook on it. Julia wouldn't swear on her family and suggested the shake alternative.
Steve then went up stairs (9:53 PM BBT) and told John they should stick with the original plan to keep Julia. John agrees and says it's all chance anyway and there's no "right move." The Flip is dead, folks.