Round One of the Final HoH of Big Brother 17 is now complete. We watched the results play out as the last three Houseguests were all eligible to play as we work towards the F2 reveal at next Wednesday's season finale.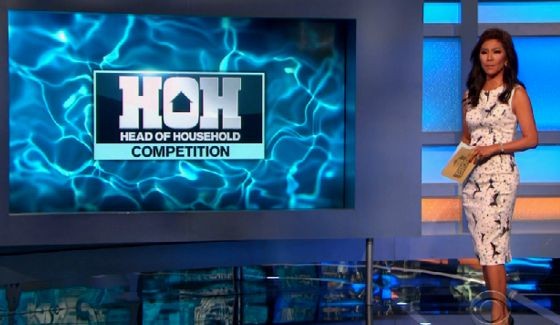 Vanessa and Steve secured their spot in this round but the third seat went to the surviving nominee between John and Liz. Unfortunately for the Johnny Mac fans, he was evicted again on Wednesday night.
Now we've got the final endurance competition to settle who wants it the most for a chance at the third round. The losers here moved on to the second round later this week while the Round 1 winner relaxes so the pressure is on to hang in and get this win.
Big Brother 17 Final HoH – Round 1 Competition:
8:00 PM BBT – Feeds go to Jeff Loops while HGs prep for the comp. This could take a bit.
8:41 PM BBT – Feeds back! HGs hanging on rope swings, dipped in goo, then slammed on the walls.
8:45 PM BBT – Everyone hanging in there just fine and having fun.
8:50 PM BBT – HGs hit with a blast of cotton candy powder. Yum.
8:55 PM BBT – Everyone still there. Vanessa complains she's too old for this.
9:00 PM BBT – Steve & Liz having fun, but Vanessa again mentions her being older.
9:05 PM BBT – Steve says this is going to be an all-nighter.
9:07 PM BBT – Lots of chatter from Steve. No one stressing it yet.
9:10 PM BBT – Steve apologizes for so much talk. HGs continue to get slammed.
9:15 PM BBT – Wall slams are coming more frequently, but all still hanging on.
9:20 PM BBT – Vanessa continues to mention her head is getting hit during wall slams.
9:23 PM BBT – Steve hits the wall & is knocked off the seat & down to the apple. Uh oh.
9:25 PM BBT – Steve recovers his sitting position while they dip in to the goo.
9:30 PM BBT – Confetti blasted at the 3 HGs. Liz worries if her hair still looks good.
9:35 PM BBT – It's a quiet one. All 3 remain in the comp. Lots of wall slams.
9:40 PM BBT – These wall slams are hard hits! They keep rolling on.
9:43 PM BBT – Vanessa asking Steve how long this comp went in past seasons.
9:45 PM BBT – Vanessa says she bruises easily & will be covered in them.
9:48 PM BBT – Steve asks Vanessa how she's doing. She says she's okay.
9:53 PM BBT – Vanessa tells Steve she has a method for the hits now. Teeth chatter.
10:00 PM BBT – Over 1h20m and all 3 remain. They're doing a good job.
10:05 PM BBT – Liz looks pretty uncomfortable and says it's hurting her lady bits.
10:10 PM BBT – After Liz says the goo dips her her "vajayjay" they keep dipping. Heh.
10:15 PM BBT – They are all still there! Nicely done, HGs. Liz does seem to be hurting.
10:20 PM BBT – Very little talk from them now. Even Steve has quieted down.
10:25 PM BBT – This HGs are tough. Lots of goo dips & Liz isn't happy with it.
10:30 PM BBT – Vanessa is starting to loose it. She's laughing & shouting at the wall.
10:35 PM BBT – HGs getting dipped over & over. No one budging. Comp continues