Results are in for who won HoH last night on Big Brother 17 after Jason Roy was evicted and just one Houseguest wrestled control away to take charge during last night's competition.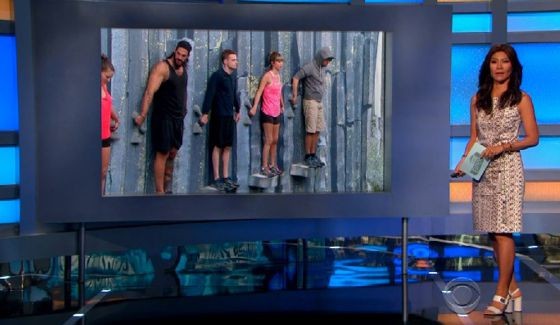 Last night returned Big Brother to the solo HoH core of the game that we know and it did so in grand fashion: endurance competition! Yes that means the last man or woman hanging on in the battle would take control and be calling all the shots.
Want to watch along? Jump on your Live Feeds right now or sign up with the Free Trial to see what happens next from inside the Big Brother house!


Houseguests have to hang on in "On The Edge" with the last HG left in the comp will take solo control of the game. Stick with us for our live coverage.
Big Brother 17 – Week 6 Head of Household:
6:55 PM BBT – All HGs still in the comp
7:05 PM BBT – Waiting for Feeds to return
7:07 PM BBT – Feeds return. All 11 remain.
7:15 PM BBT – Lots of wall leaning. Few guys already sound like they're struggling.
7:16 PM BBT – Birds fly in again and Becky yells "right in the t*ts!"
7:20 PM BBT – HGs had bird "poop" fired at them. Now it's raining.
7:25 PM BBT – All HGs are still there.
7:35 PM BBT – Two down! Steve & Austin are out!


7:40 PM BBT – Another two are out: Meg & Julia. 7 remain.
7:45 PM BBT – Ladies complaining about the birds hitting them in the chest.
7:50 PM BBT – Wind and water spray was coming in hard but they hang on.
8:00 PM BBT – Impressively the 7 HGs are hanging on. Birds attack again.
8:10 PM BBT – More birds & rain, but no one else has fallen! Tough bunch.
8:15 PM BBT – BB is letting them just hang on. Nothing actively attacking.
8:20 PM BBT – Steep wall tilt sends Jackie then Liz to the ground. 5 remain.
8:25 PM BBT – James, Clay, Shelli, Becky, & John are still in it.
8:35 PM BBT – James is squatting and one of the Nolan twins is calling him out.
8:36 PM BBT – Becky is out. 4 remain. James, Clay, Shelli, and John.
8:37 PM BBT – Clay is out. 3 remain.
8:45 PM BBT – Big Brother is firing up the water spray again.
8:50 PM BBT – Shelli says it's so freezing up there. James, Shelli, & John remain.
8:55 PM BBT – James assures John he has nothing to worry about. John drops.
8:56 PM BBT – Shelli asks for safety for her & Clay. She drops.
Congrats to James, our new Head of Household. The one and ONLY HoH this week. His noms arrive tomorrow. Should he go back on that deal with Shelli or will Austin and the Twins be his target?
We're back in the house and there is a lot of tension as the "power alliance" is trying out life without power and they don't seem to like it very much.
Julia and Liz are also talking to Austin and Julia is not happy about Austin revealing her identity. He's scrambling, but she's not impressed, says Austin disgusts her and she doesn't want to work with him.
Read the rest of the events from last night in our Thursday Overnight Feed Highlights report.


Be sure to join us on Facebook, Twitter, & by Email Updates so you get all the latest news. Keep watching your Live Feeds to find out who could be going up on the block. Are you excited with the Heads of Household this week? Share your thoughts!