The Big Brother 17 house finally got a power shift Thursday night as we got to see the endurance comp playout on the Live Feeds that results in the underdogs winning HOH.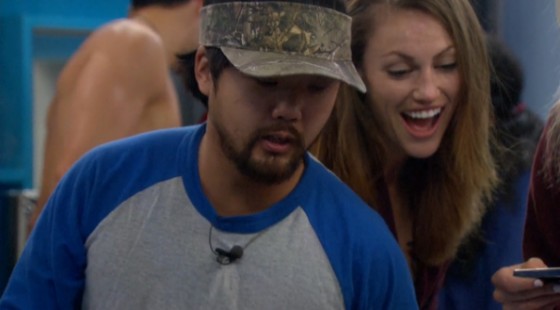 Jackie and Meg are feeling pretty good right now, but the rest of the house isn't sure what James has planned. James has said he doesn't plan to go for any huge targets but when Jackie, Meg and even Becky join in on the discussion, James starts sizing up some pretty big targets.
Big Brother 17 Live Feed Highlights – Thursday, July 30, 2015:
8:55 PM BBT – HoH endurance comp ends. Read our full play by play here.

9:10 PM BBT – Feeds are back. HGs are checking out the memory wall that now includes Julia. They actually killed Jace's photo for Julia's. Ouch.

9:20 PM BBT – Liz and Julia are discussing Austin. Julia is not happy Austin is still there and is mad that Liz is defending him. Liz keeps telling her Jason made up the stuff about Austin gunning for her.

9:22 PM BBT – Austin comes in, of course.

9:24 PM BBT – Julia is grilling Austin over what he told Jason. She tells him it's not cool that he told him her name was Julia. Austin is trying his best to do damage control. Liz is defending him.

9:43 PM BBT – James tells Meg and Jackie he wasn't letting them take them down like that. He fought for them and won the HOH.

9:44 PM BBT – Austin has a feeling he's going up.

9:50 PM BBT – Shelli tells Vanessa she didn't want to win HOH again. But she's clearly nervous that they aren't in power.

9:55 PM BBT – Shelli tells Vanessa and Clay she knows she's going to regret dropping. Vanessa tells her that she shouldn't worry since she made the deal with James. She thinks Austin, Liz and Julia will be the targets.

9:59 PM BBT – Clay says he thinks they convince James to not target Vanessa.

10:02 PM BBT – Shelli wants to work on James to target Steve.

10:12 PM BBT – Liz and Julia ditch Austin so they can actually talk privately. Julia telling Liz her whole side of the story about Austin before she left the house last. Julia tells Liz she better be more loyal to her than Austin. Liz tells Julia she needs to suck it up and get over her Austin hate. Julia says it's going to be hard for her to be nice to him because she thinks he's disgusting.

10:34 PM BBT – Liz is still trying to defend Austin and get Julia to come around with the whole Austin thing, but she's not having it. She hates him.

10:45 PM BBT – Julia is now talking to John in the shower. She tells him she was a dental assistant and that she is (playfully) mad at him for noticing her fake tooth.

10:56 PM BBT – John and Julia are talking about teeth again. John seems pretty mesmerized by Julia.

12:20 AM BBT – James gets called to the DR to get his HOH key.

12:28 AM BBT – Time for the HOH reveal. HGs look at James' photos and check out his goodies. He reads his letter form home.

1:05 AM BBT – James finally talking to Jackie, Meg and Becky (whose side is she even on now?). James says Steve will go up no doubt (seems like a waste). Jackie is pushing for Shelli to go up. James says he might have made a deal with her but he doesn't have to keep it. He's interested in why Clay asked Jason and Meg if James could be trusted.

1:10 AM BBT – The target is definitely on Shelli. James mentions putting Shelli up against Liz. James says if Shelli goes they could use Clay. Jackie says Clay is much cooler without Shelli around. They talk about them not being able to flip the votes if Shelli is up against Liz because there's no way Austin and Julia won't vote for Liz.

1:12 AM BBT – James says he knows if he makes this kind of move he'll go next but he doesn't seem scared.

1:15 AM BBT – Meg and Jackie suggest putting up Vanessa and Liz if they want to backdoor Shelli.

1:20 AM BBT – James realizes he shouldn't have agreed to any deals since he was winning it.

1:25 AM BBT – James still talking with Meg, Becky, & Jackie. They're considering putting up Liz with Austin then going for a Shelli Backdoor if it works out. He understands that's going back on his deal, but they broke their deal last week.

2:10 AM BBT – Becky warns Clay that James and his allies are determined to Backdoor one of Chelli.

2:20 AM BBT – Austin agrees to help James with a "big move" this week.

2:40 AM BBT – Clay updates Shelli that James may be wanting to BD one of them this week. PANIC!

2:55 AM BBT – Shelli is in a panic and wants to talk to Vanessa. Clay disagrees, but loses that argument. She's now telling Vanessa about the BD plans.

3:15 AM BBT – James is upstairs with Meg, Jackie, and Becky. They're working on ideas for how James can hide this BD plan. Meanwhile downstairs… PANIC!

3:25 AM BBT – After toying with the idea of Clay going up they're now looking at Vanessa and Liz instead of Austin and Liz as discussed earlier.

3:35 AM BBT – Shelli and Clay are upstairs talking with James alone. They want to make sure their deal is still good. James assures them of course it is.

3:45 AM BBT – Jackie just told Vanessa not to worry and that James is targeting others, but Vanessa knows it's Chelli. Jackie promises to save Vanessa with the Veto if Van goes up and Jackie wins it. (This is part of the plan to get Shelli BD'd.)

4:00 AM BBT – James tells Chelli he's felt good about them, but the Jason thing got him worried.

4:20 AM BBT – James quizzes Chelli on who was throwing his name out there last week as a renom option even though he was safe. (Yes, that kept happening. Van was at least one of the HGs to do it.)

4:25 AM BBT – Back downstairs, Clay assures Shelli they'll be safe. "James gave us his word. He's got to." Heh.

4:35 AM BBT – Steve is upstairs now working on James to figure out what's going on but James turns questions around on Steve. James promises him he shouldn't be worried and he's going for a big target instead. James tells Steve he wants to split up power couples this week since their vote would be a lock if they made it to Jury.

5:15 AM BBT – The night is finally dying down as James and Steve play a game of chess as the others are asleep.
It's going to be a wild ride of a week and I can't wait to see how this all goes down. No more Battle of the Block plus a divided house makes it feel like we're back to good ol' Big Brother!
You can watch all of these Big Brother events using the archives Flashback, the DVR-like feature of this year's Live Feeds which means it's always live, even when you missed it! Sign-up now to get the free trial to watch it all live & uncensored.
click images to see full-size