Just as we expected, the Big Brother 17 house was on fire after today's Nomination Ceremony where the new Head of Household revealed shocking results. Well, shocking to the targets.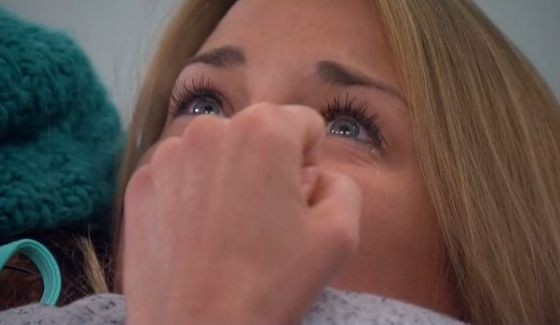 Yes, we have a power couple on the run with few exits aside from front door of Big Brother and with the rest of the house seemingly on board there may be no other escape.
James planned overnight to target Shelli by using other HGs as pawns ahead of a Backdoor, but then in the final hours of the night he saw a better plan: nominate Shelli and Clay together. Yes, he stuck to the plan and that's just what happened. The fallout? As impressive of Feeds adventures as we'd expect.
Flashback to 3:54 PM BBT 7/31 as the Feeds have just returned from Noms Ceremony and Clay is cradling a crying Shelli in his arms. They're both on the Block this week. She's in shock and he's furious. Clay continues to mutter "he's a piece of s**t." Seems Clay blew up at the Noms Ceremony so we'll have to see that on Sunday's show.
Clay and Shelli retreat to their bed where they start to scramble. Shelli says they have to get Austin Backdoor'd and says he's the reason this is all happening after seeing Austin upstairs with James earlier. Vanessa joins them and she's in (fake?) tears because Shelli didn't hug her after the noms.
Tears turn to anger when Clay suggests this whole problem was caused by Vanessa and "her choice." Oops. Vanessa didn't like that and she starts raising her voice at them saying Jason was a group decision. Vanessa is pissed and goes outside to do preventative damage control working on the twins and Austin that they'll need to "deny, deny, deny" what she expects Chelli to try next: exposing everything they know.
Jump forward to 4:12 PM BBT as Shelli and Clay grab James and go to the Lounge. Shelli is so upset at James for breaking that deal she asked for as she fell off the comp last night. That's silly considering she was already dropping and James had a lot more left in him.
James lets them run in circles and he's giving weak answers before he finally gets to their betrayal with Jason and blindsiding him and his allies over that decision. James points out that he can't trust them anymore because if he was in the same spot and needed their two votes he knows they might not do it just as it happened with Jason. It's a good argument, but the talk isn't over yet.