Big Brother spoilers are in for this week's PoV Ceremony which was delayed for hours due to Audrey hiding in the Diary Room for almost 5 hours. So was the Power of Veto used on either of the remaining nominees? We've got the details.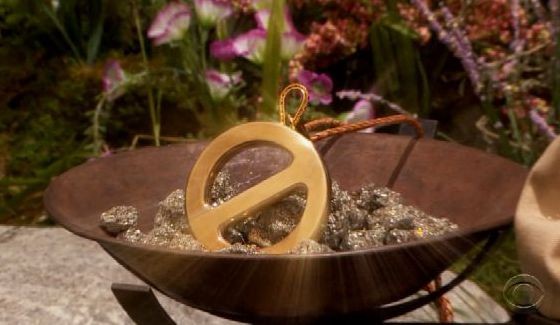 With a pawn and the back-up target on the Block the Head of Household and PoV winner had a chance to make a big move for their game by ridding themselves of a loose cannon this week. After all the chaos of the past day this choice was made simple.
Power of Veto Ceremony Results – Week 4:
At today's Veto meeting, Vanessa, the medallion holder, removed Jason from the Block forcing Shelli, the HoH, to name a renom. No surprises here. Audrey was put on the Block as a renom.
Here's the catch. Audrey didn't show up for the meeting. Just before the meeting was going to be held hours and hours ago Audrey went in to the DR and did not return. Nearly five hours later she emerged and shut down in the Have-Not room. The Veto meeting was held without her. She didn't bother to attend.
Audrey is now sleeping in the Have-Not room in the dark despite lights being required to stay on. What an absolute disappointment. Things didn't go her way and now she's behaving like a child. I applaud production for getting her back on track and back in the house, but there's no respect for the way she's treating the game at this point.
Now Audrey and John will face the eviction vote on Thursday's episode but does anyone really think Audrey has a chance? There are ten votes which leaves us open to a tie-breaker from Shelli. That means Audrey needs six votes to stay. To do that she would have to get every non-Sixth Sense voter to choose her over John. Yeah, Audrey's survival rate looks bleak.
If you're wondering why Sixth Sense would target Audrey over someone already on the "other side" it's simple. Once Audrey started running her mouth against people in her own alliance, like Vanessa, Shelli, and Clay, she was doomed. Audrey knows too much and her allies realized they can't control her.
Vanessa appears to have the most to lose as she's formed so many F2 deals with nearly everyone and Audrey is on to her. We've already seen quick action by Vanessa to discredit Audrey but she'll have to keep working on it to make sure none of those seeds survive. It's going to be a fun next few days!
Keep watching Big Brother Live Feeds (get your Free Trial) to see what happens next inside the house.