Today on The Talk, Big Brother host Julie Chen gave us a preview of tonight's Head of Household competition and we got a few extra details for what we might be able to expect.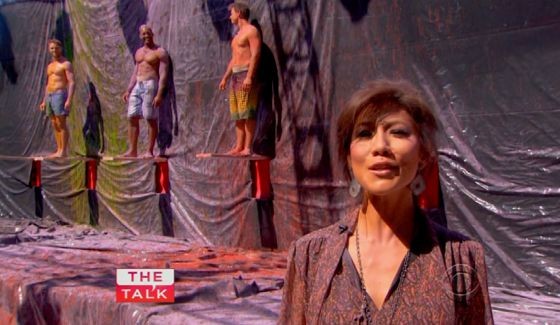 CBS brought in three of its daytime soap actors to help out on the test run of tonight's Big Brother HoH comp, so these are not actual Houseguests. Most of the set was covered up but we could see a few angles that suggest a Hollywood movie premiere theme.
The three players stood on the familiar short boards raised up off the ground and then had to catch tomatoes (well, red balls) flying through the air. Julie teased the guys with a few different items flung their way with paint and dust, but settled on tomato sauce.
Most interesting to me was the arrangement of the standing boards. They are well spread out which makes it seem difficult to fit fourteen Houseguests in that space, much less sixteen. We can see at most six seven spots at once. Hmm, could this support the 7 HGs at a time per the two-night premiere as I suggested the other day? Maybe. Maybe.
Check out the pics from today's Big Brother 17 preview on The Talk and then get ready for tonight's Big Brother premiere!
click images to see full-size views