Here we go! Big Brother 17 has arrived with its two-night premiere and we're live recapping the whole event right here with you as we officially meet our new Houseguests in action and see them head inside the house. Our nearly 100 days of fun starts now!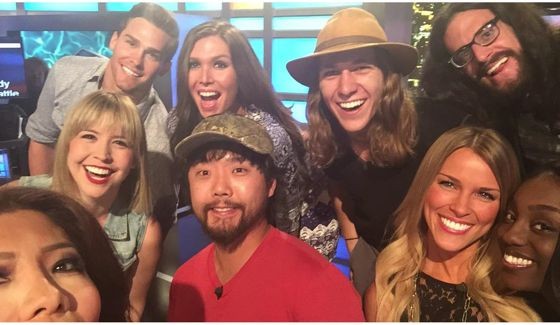 As always our host is Julie Chen and she's going to walk us through the house and right on to the stage where the show kicks off and the new Houseguests gather before the front door. "But first," we need to see them get their special Big Brother key.
There's plenty of mystery ahead of tonight's BB17 premiere as we've heard someone will be evicted tonight and maybe all the Houseguests won't even go in at the same time tonight. On top of that, we're expecting at least two more Houseguests to lift our numbers up to the more usual sixteen. It's going to be a busy few nights of Big Brother!
Stick with us here as we recap the show live and chat with other fans in the comments section below. The Live Feeds launch Thursday night after the west coast premiere concludes so be sure to sign-up now and be ready to watch it all from inside the house as it happens.


Julie tells us there will be three twists tonight alone and those are 1) a fan favorite, 2) a secret only the audience knows, and 3) the Big Brother Takeover twist. We already knew the 3rd one, but I'm intrigued about the other two.
8 initial HGs are out in front with Julie as they prepare to enter. Austin, Audrey, Jace, Clay, Meg, James, Shelli, & Da'Vonne. The first person in is Da'Vonne. Cursed! They find beds and then head in to the living room and grab some champagne to do their introductions. Only 8 glasses on the table.
click images to see full-size views
Houseguests are split up and hanging around when Audrey suggests to Shelli and Da'Vonne that they should form a secret alliance. They decide to work on a name later, but Audrey is certain that she wants to have a female win this season.
Julie calls the 8 HGs in to the living room to tell them about the 2 twists. Battle of the Block is back. Yes, the return of 4 nominations, 2 HoHs, and all that fun. Here we go with the first HoH comp tonight, "but first" one of the 8 has to sit out and watch. Da'Vonne offers to sit out as long as they promise not to nominate her.
The HoH comp is a movie premiere theme, as we explained earlier, where the HGs have to catch flying tomatoes and stack them in a tube beside their platform. Meg, Austin, and Clay all fall down and are out right away. Yikes.
click images to see full-size views
James leads, but Audrey and Jace are catching up. Nope, he's back out in the lead again. Hang on though, because none of them did. All four remaining players just fell at the same time. Julie has to go to the tapes to find out who was the last to hit the ground.
Julie is back and they show us that James was the last to fall to the floor which makes him the first Head of Household, one of them of them this week.
All the HGs are called to the living room where Julie explains there will be a new twist every week. There's even a special jingle designed to make the HGs run to the living room for their next twist. Ugh, this sounds messy.


Last twist is revealed as the "Twin Twist" where one of the Houseguests will swap in and out of the game with his or her twin. If they can go undetected for 5 eviction rounds then they'll both play as individuals. If this sounds familiar then it is. Big Brother 5 did this exact same twist already, but it's fun and it's been 10+ years so okay.
Now Shelli was listed as having a fraternal twin, so it's not her (fraternal vs identical) and Liz has a twin but the picture I saw of them didn't look like they were identical enough to pull off a swap-a-roo. Hmm.
Update: Okay, here's the pic of Liz and her twin sister. I think they look noticeably different, but you tell me. And here's another. Here is Liz's official photo & the newly released bikini photo. They must have made the swap for this day and I really don't think they look similar enough to pull this off. What do you think? Vote here in our Twin Twist poll & share your thoughts.
Tomorrow night we'll get the second part of the two-night Big Brother premiere with the other 6+ Houseguests and we'll officially find out who has the twin.
Join us on Facebook, Twitter, and by Email Updates for even more Big Brother 17 all summer!