Big Brother 17 showmance Shelli Poole and Clay Honeycutt had been riding high with a strategy that put them right down the middle of the house, but all that might have been thrown away after Monday's Veto Ceremony.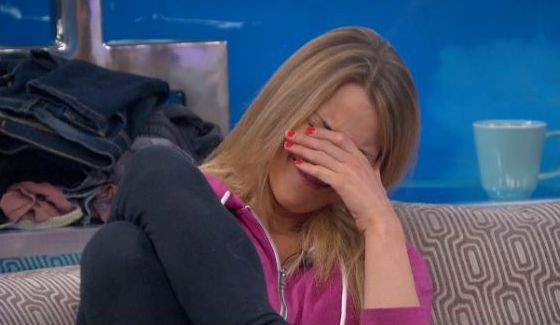 As members of an 8-person deal to send Austin out the door Clay and Shelli continued to put on a front that they were with the underdogs and ready to send the lovelorn wrestler home even while working to under that very plan.
When the Veto Ceremony ended the underdogs (Meg, James, Jason, and Jackie) were left in shock and wanted answers. Shelli and Clay sat down with Meg, Jackie, and Jason in the backyard just after the meeting and assured them they had no idea this was happening. Clay said he knew nothing about it while Shelli said she had her worries that something was up.
Keep in mind that Vanessa had earlier made sure her allies, including Shelli and Clay, were going to back this plan and her decision. Imagine Vanessa's surprise when Meg informed Vanessa that Clay and Shelli denied any awareness of the Jason renom. Flashback to 2:55PM BBT 7/27 to watch. Oh Vanessa wasn't happy and makes sure Meg knows the power couple is lying to her.
Back downstairs Meg is quick to tell James, Jason, and Jackie that Clay and Shelli have been deceiving them and may have been not only been aware but actually instrumental in it happening. Oops. Meanwhile upstairs Shelli realizes she might be in trouble here after being caught in an obvious lie after trying to appeal both sides of the house.
Jackie and Meg agree that they must not let on to Clay and Shelli. They'll need to play it cool with them now and figure out what to do next. Later we saw Meg saying she'd continue to trust Clay which I'm hoping was all part of the plan with Jackie as they plot their next move.