Last night on the Feeds we got a glimpse of what might happen if either Becky Burgess or Jackie Ibarra were to win the upcoming Head of Household competition. I'm a little worried.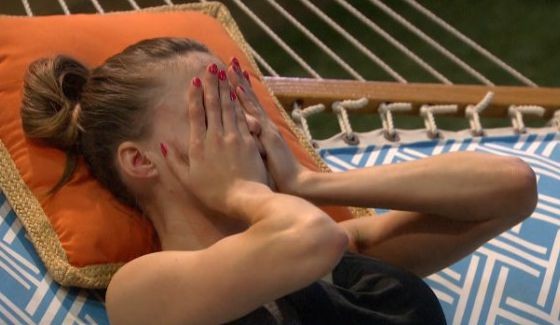 Sitting alone in the hammock Jackie and Becky compared notes on the upcoming HoH competition that I thought would be extremely high stakes after lines were clearly drawn on Monday and the pressure was on to take control and go after a big threat. Becky thinks otherwise.
Flashback on your Live Feeds (Free Trial) to 8:23PM BBT 7/27 Cams 3/4. Becky tells Jackie she feels like "every single person is going to throw this HoH [comp]." Jackie sounds surprised. Becky explains too many people are nervous going in to a possible Double Eviction. She says the outgoing HoH will be a sitting duck and everyone goes after big targets during that event.
So what's Becky's plan? "This one, I want to win and go for an easy target." And who would that be? Steve. Becky wants to target Steve if she wins HoH as she suggests "you can't go for a big target the week before [a Double Eviction]."
Let's back up. Becky is on the Block. She's been used as a pawn to the point that she was crying when Vanessa chose Shelli to help rescue Clay instead of her. Becky must know she means nothing to that side more than a seat warmer. Her response? She'd go for Steve to avoid rocking the boat. Becky is already seen as fully expendable and yet she's afraid she might make herself a target.
Jackie says she wants to go for a bigger target and if she can do it during the DE then all the better since there won't be any time for questions asked.
Jump forward a few minutes to 8:31PM BBT as they discuss again the upcoming comps. Becky says it's up to Jackie whether or not she wants to try and win this next one, but she's going to go for it. Jackie says she wants to play to win all of them. Considering there are two HoH spots maybe both of you ladies should try to win, huh?
Becky continues with her plans, telling Jackie that if she wins HoH she just can't go after a big target. She isn't willing to try and get out a player like Vanessa. "I just couldn't do it. I know it's the move we want but…" Jackie sighs and looks to the side. Perhaps she's checking to see if there's a better ally available.
With Shelli and Clay left in the game Becky thinks it's just too dangerous to try and take out Vanessa. I'm at a complete loss here and hopefully Jackie is too. HGs have speculated Jackie would vote to keep Becky over Jason, but I do not know why you'd want an ally too afraid to try and regularly win comps and if she did would then be too afraid to take out a major threat.
I really don't get Becky's strategy here which seems to make herself expendable cannon fodder on both sides of the house. I'd much rather see her than Jason go on Thursday, but without a fifth vote readily available I'm not sure how they could make it happen. Then again, that's their job, not mine.