It was an emotional night in the Big Brother 17 house as Jason and Meg kept the tears flowing and even Shelli had to drum up a few to try and maintain that whole playing with integrity facade she and Clay have been aiming for.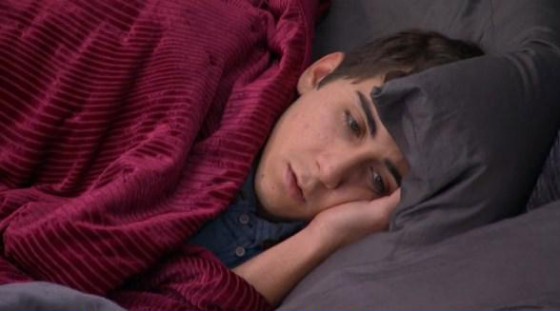 The tears weren't the only steady flow going on. Vanessa's retelling of why she did what she did has been going on for about 18 hours or more, mostly to Jackie.
Big Brother 17 Live Feed Highlights – Monday, July 27, 2015:
4:45 PM BBT – Meg & Clay talking game. Meg tells him Vanessa blamed Clay for creating the 8-person alliance. Clay is shocked.

5:30 PM BBT – Vanessa & Liz talking in HoH room. They're patting each other on the back and justifying the Jason renom. They agree Jason should have hidden his super fandom and just been the "funny gay guy."

6:45 PM BBT – Jackie interrogating Clay about Jason's renom. She wants to know why he didn't tell them, but Clay says it wasn't his information to share.

6:50 PM BBT – Becky is crying that she didn't ask for all this. She did volunteer to go up.

7:00 PM BBT – HGs discussing recruiting. Clay says he met the casting director at a Lakers game. When she offered him Big Brother he thought it was the Big Brothers Big Sisters youth organization.

7:03 PM BBT – Vanessa and Jackie are talking about the events of the day again. Vanessa tells her that she would not blame her if she comes after her. Vanessa is really pushing this line in the sand. Jackie says she's not a target for her and Vanessa says the same to her.

7:08 PM BBT – James calls Shelli evil to Meg and Jason.

7:15 PM BBT – Meg, Jason and James still talking. They say someone needs to split up Shelli and Clay and think Shelli needs to go first because she's sort of running the house. Jason starts making jokes about walking around the house calling people names this week since he's going home.

7:23 PM BBT – Vanessa is AGAIN explaining to Jackie why Jason and not Austin went up on the block.

7:28 PM BBT – Becky and Jason discuss votes. He tells her there are five people voting against him so she has nothing to worry about. They talk a little about who is to blame for all of this (Shelli more than Vanessa) and Jason says he is just going to enjoy his time left in the house.

7:45 PM BBT – James has been biting his tongue all day and tells Jason he is about to blow up on people. Jason tells him to keep his cool and to not make himself a bigger target than he already is.

8:04 PM BBT – Clay spewing lies at James over all that happened during the day. James doesn't seem to be buying it.

8:09 PM BBT – Jason is in bed crying. He says he had the chance to change his life but wasn't able to do it.

8:08 PM BBT – Clay still trying to explain to James they aren't why Jason is up. Shelli tells James she's offended by the way he's been looking at her.

8:12 PM BBT – Shelli goes to Jason and Meg. She tells Meg she doesn't want her to think she lied to her face (she did). And she tells Jason she did not put his name out there. He tells her it's all OK.

8:25 PM BBT – Shelli tells Jason not to give up and is crying.

10:35 PM BBT – Jason tells Meg he should have asked Vanessa why she was so against going after the transgender girl but going after the gay guy was just fine.

10:50 PM BBT – Clay tells John he wanted Jackie to go this week, but Vanessa wanted to stick to the deal she and Jackie made to not backdoor each other.

10:55 PM BBT – Jackie and Vanessa still talking about everything. Jackie wants to know why they were so hard-pressed to draw lines. Vanessa says no one was that the lines were already drawn.

11:25 PM BBT – Jackie and Vanessa still going.

11:55 PM BBT – Vanessa says they keep taking out the interesting players so the season is going to be so boring soon.

12:20 AM BBT – Austin and Liz discuss if they're in danger of being targeted. Austin thinks Jackie will be a bigger target now. Once Julia arrives Austin says he can be a tagalong for them.

2:40 AM BBT – Vanessa explains to Steve who the two votes for Jeff had to be. She's sure it was Meg and Jason. Steve happily agrees.

2:50 AM BBT – Steve would like to have a showmance with Julia, but he might wait until Jury house.

4:00 AM BBT – Jason and James hanging out in the backyard talking game. Jason trying to pass along any info he has.
Jason seems to have given up, but let's hope he decides to have some fun on his way out instead of sleeping away the next few days.
You can watch all of these Big Brother events using the archives Flashback, the DVR-like feature of this year's Live Feeds which means it's always live, even when you missed it! Sign-up now to get the free trial to watch it all live & uncensored.
click images to see full-size