It was typical Big Brother 17 on Sunday as the houseguests continued to do the opposite of what everyone else would be doing. And in typical CBS fashion, they once again got confused about what fans of the show want and invited back a "past houseguest" to present a luxury prize.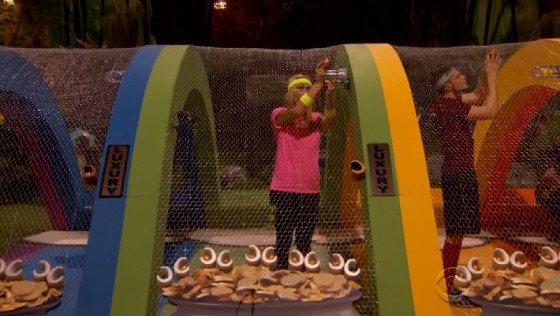 We pick up during the Head of Household competition and it's looking like it's going to come down to Austin, Vanessa and John. And then Vanessa takes the lead and never lets go. Vanessa wins the competition, which means it's going to be another week of looking for reasons to nominate and spouting out how much integrity she has and just how evil of a person she's not. Oh boy.
Oh, and Liz decided to go for the luxury prize during the competition and promised to take the person who wins HOH. So Liz and Vanessa will be going a luxury trip.
So Vanessa, who probably didn't have to win HOH, now has to pick a side since she's in the middle of two alliances. Steve, being Steve, is all excited thinking he's safe this week, but will that be the side Vanessa goes with? We'll see. Meanwhile, Liz is scared.
It's time for Vanessa to start looking for her reasons. So she starts her "fact-checking" crusade that includes (for lack of a better term) bullying tactics. She likes to start her conversations with "don't lie to me." It's just the kind of paranoia-fueled attitude that make Vanessa unpopular with a lot of people. No one understands why she's so abrasive and crazy-acting.
Steve delivers Vanessa some news that seems to put Liz in her crosshairs so it's time for Vanessa to go grab Austin by the balls a little. In typical Vanessa form, she's all over the place and has me and probably half of America ready to throw something at my TV.
Next up is Johnny Mac. Vanessa asks him what Austin and Liz had planned. John tells her that Austin said he wouldn't put him up and that he made a deal with Austin (which Vanessa told him to make) and she acts like she doesn't remember. So now she has a reason to put just about everyone up, so who is she going to choose? She's going to just "go with her gut" like she always does. And it's always wrong. Ugh. It's always so painful when Vanessa is HOH.
Vanessa decides to go with Austin and Liz, the showmance. She tells Steve she's going to strike at John and he tells Vanessa how stupid she's being. Steve, being Steve, still doesn't realize that he never should have trusted Vanessa and he still isn't aware that he's as in danger as John is. Even after she basically refuses to give Steve a hug. For someone who claims to be "not evil," she sure is hard to like as a viewer.
So it sounds like Vanessa has her decision made, can we please move on to something else? Oh. One should always be careful what they wish for. Looks like it's time for Liz's luxury trip and I'd rather go back to watching Vanessa talk in circles looking for a reason to nominate two people.
A "former houseguest" shows up to take Liz and Vanessa out of the house to a concert by a "current pop star." At that's enough on that part of the episode. Let's get back to the game of Big Brother.
Since the editing wasn't as creative this episode, it comes as no surprise when Vanessa decides to nominate John and Steve for eviction this week.
Click episode images to view larger