Sunday's Big Brother 17 Live Feeds were a day of Gronk Parties, Jeff's fate being more and more sealed and one long, continuous Vanessa conversation.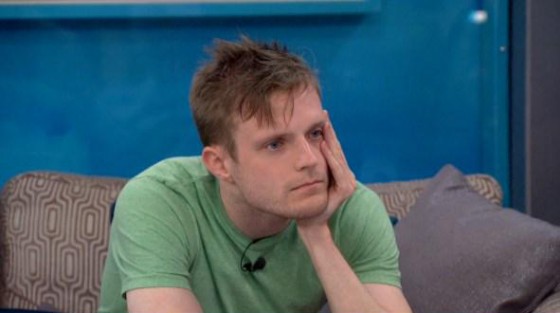 Vanessa's plan to come up with a reason to get Jeff out the backdoor this week has come to fruition and she spent A LOT of the day explaining to people outside of the alliance why.
Big Brother 17 Live Feed Highlights – Sunday, July 12, 2015:
11:20 AM BBT – HGs get a very late start to the day after the Gronk Parties kept them up all night. HGs must do a conga line around the backyard for 10 mins or so.

11:37 AM BBT – Jeff warns John that he's going up & being targeted. John realizes he was duped by Vanessa with her BD-Audrey promise.

11:43 AM BBT – Vanessa explains to Julia that as a gay woman, she can't target Audrey and wants her to do well this season. (She goes on to tell this to almost all HGs. It's likely strategy, but a strange one at that as it may bind her later.)

12:30 PM BBT – "Get Jeff Out" alliance forms with Steve, Austin, Liz/Julia, Vanessa, plus Shelli and Clay. (At least the names are getting simpler and more direct.)

1:05 PM BBT – Austin reminds Julia that he's risking his game to protect her.

2:05 PM BBT – Jeff updates Jackie on the situation. Jackie agrees that it's very bad and she knows Vanessa will stop at nothing to get him evicted this week.

2:30 PM BBT – Jeff tries to go talk to Vanessa but is sent away. He goes to James and tells him why Vanessa won't target Audrey. He's frustrated.

2:35 PM BBT – Jeff finally gets in to talk with Vanessa. She's brutal and aggressive and suggests several times that he can get out of her room. It doesn't go well for Jeff and lasts nearly an hour.

3:20 PM BBT – Audrey offers James a two-way deal of looking out for one another. He accepts.

3:40 PM BBT – Jackie reaffirms that Jeff is in a bad spot, but she'll give him a vote to stay.

6:00 PM BBT – Audrey is watching over a heavily defeated Jeff. She promises him she'll get justice against whoever has dragged her name through the mud. Audrey tells Jeff he'll need seven votes to stay this week and if he can get six then she'll be the 7th to help him avoid a tie-breaker. (There are 11 votes this week, no tie, and 6 to stay.)

6:30 PM BBT – Vanessa is panicking as Julia screwed up and confirmed the twins twist to Steve, but she was supposed to hold it back. I really don't get what the panic is about, but there's definite worry from Vanessa and Clay. They don't want Steve to know Clay and Shelli know for sure.

6:40 PM BBT – Clay and Vanessa plan to evict Audrey during a Double Eviction. He is ready to cut her loose.

6:55 PM BBT – John comes in to HoH and Vanessa wants to tell him why she's going after Jeff instead of Audrey now. It lasts for FORTY MINUTES. Seriously. Vanessa says her argument last night with Jeff was "World War III and most insane evening of the season." No and no.

7:35 PM BBT – John is rescued when Big Brother plays the Gronk Party music. HGs have to meet in the kitchen and dance around to occasional music. Bizarre.

7:45 PM BBT – Liz is in the toilet stall when Big Brother announces, "Liz, stop that!" HGs are puzzled.

7:50 PM BBT – Becky has been summoned to Vanessa's HoH room. She'll now be subjected to the same story-telling torture method.

8:10 PM BBT – Austin says Jeff is going to blow up some people's games before leaving the house this week.

9:30 PM BBT – Vanessa, Austin, and Liz are worrying about Clay and Shelli knowing that Steve knows about the Twins. Yeah. Clay and Shelli don't want Steve in the alliance. They start to worry about Clay and that he may have more alliances and side deals than they know about.

10:40 PM BBT – Audrey and Meg have a talk to calm things between them. Audrey says she won't be mad at Meg and contributes it all to a misunderstanding.

11:00 PM BBT – Houseguests playing Truth or Dare as part of the Feeds vote.

12:00 AM BBT – Vanessa and Julia practice how to handle the situation if anyone confronts her about being a twin.

12:50 AM BBT – Vanessa assures Austin that Jeff is going up. She will not change her mind on this.

1:10 AM BBT – Meg and Jackie discuss the votes and agree that Jeff doesn't have a chance. They think Vanessa will be in trouble next week and is headed for the Block.

1:35 AM BBT – Jeff doesn't want to give up so he goes to try talking to Vanessa again to avoid being the renom. Vanessa and Julia try to pretend to be sleeping, but it doesn't work.

1:45 AM BBT – Jeff continues to plead with Vanessa, but it's going nowhere. He brings up things Audrey said against Vanessa, but she doesn't care.

2:20 AM BBT – Gronk Party in the living room. HGs have to dance around. Becky raced in from being in the shower and is soaking wet.

2:35 AM BBT – James warns his allies that Vanessa, Audrey, Austin, & Liz may have a deal going to get the twin in and go to the end.

2:40 AM BBT – John says he'd try for a showmance with Becky, but she likes taller guys.

3:20 AM BBT – Austin and Vanessa are worried that Clay and Shelli are actually playing with the other side.
Well Jeff is done, done, done. He'll be going up on the Block on Monday and there's no way around that. It'll be up to him and James to campaign, but I think most of the HGs prefer James to Jeff and that'll be how the vote goes on Thursday.
You can watch all of these Big Brother events using the archives Flashback, the DVR-like feature of this year's Live Feeds which means it's always live, even when you missed it! Sign-up now to get the free trial to watch it all live & uncensored.
click images to see full-size