The Power of Veto competition is coming up later today in the Big Brother 17 house as we're down to the point of the season when every remaining Houseguest is guaranteed a spot in the battle for an impact on this week's nominations.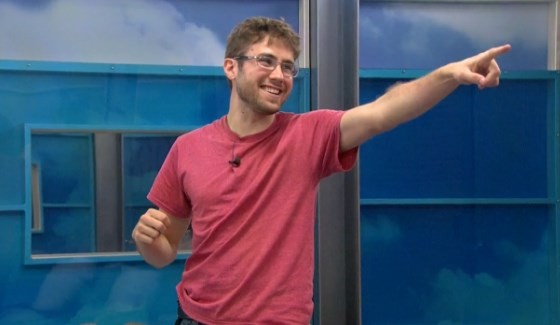 The nominations came as an upsetting shock to one half of the selected Houseguests even after a quick glance at the numbers reveal very few options. Meanwhile the other half knows to play it cool and try to escape this week without any bruises. But what if there's another plan below the surface?
Heading in to today's competition everyone knows their butt could be on the line. Austin and Liz are on the Block but Liz seems to feel she's the target since she sees how she's in the pivot position between Austin and Julia. Add to that Steve has mentioned to Austin he's not the target and that leaves one side feeling a lot more comfortable heading toward eviction.
Austin's fear is that Liz wins the Veto and Julia goes up in her place leaving him as a very big target in comparison come Thursday night. There's no chance that Austin won't be trying his hardest to win and has said that with his back against the wall he can't be blamed for competing against his showmance for survival.
Liz's fear is that she wins the Veto. Yep, she's worried that if she wins and uses it then Julia will go up in her place. Liz's preferred outcome is a situation where she could throw the comp to her sister and then they're both safe and Steve is forced to find a renom who isn't a Nolan.
If the Julia win situation comes up then we'll get some more interesting debates and likely tears and freak outs as a defense mechanism from Vanessa. Steve would have to choose between John and Vanessa at that point and could really be our biggest chance for drama this week. But what are the chances of Julia winning the Veto again after her victory on Thursday was her first of the season? Possible, but it could be a long shot.
Okay, so what about this other mystery plan that could be going on here. Last week I discussed how removing Liz from the equation would be the best option for Vanessa as she could then straddle the line between Austin and Julia both of which are close allies for her, but instead we saw Meg bumped followed by a confusing method this round of seemingly working to get Austin out the door next. Vanessa might not be the only one with that idea in mind.
While Steve has repeatedly promised Austin to his face that he's not the target we've been getting mixed messages from Steve behind closed doors. At least twice on Friday we heard Steve say out loud that Liz was not his target. Hmm, okay, so who does that leave us with as the possible target?
Well I don't think it's John since Steve sees him as a reliable ally and possibly an easy defeat at the end. So it'd either by Austin or Vanessa and I'm leaning more toward thinking it's gotta be Austin. Austin did send Steve to the Block last week but they've also had a long running hidden alliance of sorts. Austin is a big player, but is he really a trophy eviction?
Keeping Liz over Austin doesn't seem like the best idea to me, but we're working with more information than Steve has available. Without Liz I'd think Steve had a chance of working with Austin, but without Austin I don't see Liz going to Steve in the same way. She'd have her sister and Vanessa way before him and her bitter raging yesterday suggests she might not be quick to forgive and forget as Steve seems to expect.
The Veto competition will be coming up later on Saturday and there's no need for picking players. Construction sounds like it wrapped up last night so things should be ready to go before too long. Who do you hope will win the Veto? Would it be best for Steve's game to keep the noms the same or send someone else to the Block and make a new target?
Find us on Facebook, Twitter, and get our Email Updates so we can send you the latest Big Brother spoilers and updates as they happen!